Anyone involved in the world of eCommerce is probably familiar with Pexda. Widely regarded as the best product hunting platform on the market, Pexda offers a comprehensive product database and various marketing data to help businesses establish and grow their online stores.
Whether using Amazon, Shopify, eBay, or any other eCommerce platform, Pexda is an invaluable resource that does most of the hard work for you.
Rather than having to troll through suppliers, marketing data, and compiling your own adverts from scratch, Pexda provides a wealth of resources in one handy online interface to make life as an online retailer much easier.
Let's take a closer look at what Pexda offers and how it may be beneficial for your eCommerce business.
UPDATE: EXCLUSIVE TO SCAMTESTED USE COUPON CODE "SCAMTESTED20″ FOR 20% LIFETIME DISCOUNT
Pexda Overview
Pexda is a product hunting platform designed for online retailers. It sources countless products based on performance data to let buyers know whether it's worth investing in their store. Each product on Pexda features lots of insightful marketing data that gives buyers an idea of how it may perform on their stores and how well it is advertised on social media.
So, by using Pexda online retailers can overcome one of the most common problems they face – trying to find winning products to successfully sell. Trying to find these products without any assistance is often like searching for a needle in a haystack.
You search long and hard to find products that will be a best-seller, but most of the time is spent looking for products and hoping they're going to be winners rather than finding big hitters.
Some people spend money outsourcing the service to marketing professionals, while others waste countless hours and lots of cash to try to work things out on their own, both of which only increase costs and lower profits for the business.
Pexda offers a diverse selection of tools that makes finding those winning products so much easier and more efficient.
For a monthly fee, members get access to a huge database of products and useful information on each one, along with guides for creating ad campaigns, advert copy, product videos, target audiences for products, various ad reports, and much more!
Pexda Features
Comprehensive Product Database
Easily the best feature of Pexda is its massive product database. This includes products that are current hot sellers with high conversions, giving buyers the chance to invest in products that are selling well.
Not only that, but there are also products that look likely to be big sellers very soon, so there is a complete collection of products that may be worth investing in. These remove a lot of the hassle of manually searching for products, giving the chance to quickly view what is hot and what is not.
Betters still, new products are constantly being added to the database by Pexda, so there are always some promising products available most days. This makes is possible to remain ahead of the curve, buying and selling untapped products before anyone else.
Using the product database is straight-forward. The grid layout shows each product with a high-quality image, how many days it has been listed for, how many orders were placed, and whether it's potentially an untapped winning product.
For more detailed information on each product and access to some of Pexda's core features, simply click on the product.
Specific Search Tools Make Finding Products Intuitive
Given the wide range of products listed and the number of new products constantly added, searching through Pexda database could have been overwhelming. Thankfully, the database comes with one of the best search tools around, letting buyers search for specific products based on a selection of niches and filters.
On the upper right section of the database is the niche filter. Here, you can search for products based on specific categories, including pets, kids and babies, hobbies like fishing or hiking, holiday themes, movies, food and drink, and many more categories.
This is ideal if you have a niche store you want products for or for searching for products that may be currently trending.
The sort function is also very useful for finding hot products. For instance, you can search for the newest products if you want to catch something before it gains traction, while it's also possible to search for products based on current orders, which is a good way to find the best-selling products so far.
Another way to sort through products is their Facebook Ad metrics such as reactions, likes, shares, and comments. This is handy for finding products that are performing well on Facebook, removing much of the guesswork.
It is important to note that some search features are only available for certain paid subscriptions. For example, premium members can sort by selling price, product cost, and targeting reach.
Product Descriptions and Videos
Not every online retailer is a natural writer. Marketing products requires a unique form of writing to create engaging product descriptions, so the fact that Pexda provides these with every product is very useful. With this, you spend less time writing and more time selling products, which is what any good retailer wants.
Simply select the product from the database to visit its page, then copy the description written below the image. It couldn't be quicker or easier to get an engaging Ad copy for your store.
Better still, the product comes with free video adds you can use on Facebook and other selling platforms. Videos are effective advertising tools but it's important to use a video that isn't a copyright infringement, which could lead your Facebook Ad account being banned.
Pexda members have permission to use all video adverts for products, so you never need to worry about creating or sourcing a video.
Competitor Facebook Adverts for Comparisons
Creating engaging Facebook adverts is always a chore. With Pexda, you get access to Facebook Adverts that are currently performing well, which you can as inspiration to create your own successful ads or even copy it directly if you're not a fan of writing
Facebook Advert examples are included with every product on the database. Simply click on the desired product and go to the Facebook Ad section and follow the link. This section also gives a breakdown of how the advert's metrics, including likes, reactions, comments and shares, so you know exactly how good it is for selling the products.
Product Profit Metrics
There is no point selling products without information about potential profits. Pexda delivers on this front, giving data on the selling price, product, cost, shipping costs, profit margin CPA, and Net profits.
This information is necessary for deciding if a product is worth buying and selling. You see what you're paying and the potential profit margins for selling, giving buyers a clear indication of how worthwhile an investment is.
Supplier Information
Just below the section on profits is data on the supplier, including a link to AliExpress where the products are available. Following this link gives more information about the product (e.g. cost, shipping, votes, feedback) you can even buy it directly from the link if you're impressed with what you see.
It's just another way that Pexda makes finding products easier. You aren't trolling through different suppliers and manufacturers, instead using the products from the database and following the links to see if they are worth buying.
Premade Targeting Options
For anyone unsure of how to best promote their products on Facebook to reach the right target audience, Pexda has three premade targeting options that does the hard work for you. So, any product you're thinking of buying comes with premade targeting campaigns you simply copy into Facebook.
Some aren't tested however, so it's always a good idea to use these are more of a groundwork to a more detailed target campaign. Still, it gives a clear idea of how to use targeting to your advantage, including suitable interests, age, gender, locations, and behaviours to target that are relative to each product.
Clicking on each target option opens a tab that gives more detailed information, including the potential reach and engagement figures for each one.
This feature basically makes it much easier to target audiences for every product. You can try a few of these to see how they perform and avoid the need to create your own targeting campaigns from scratch, saving lots of time and most likely a fair amount of money.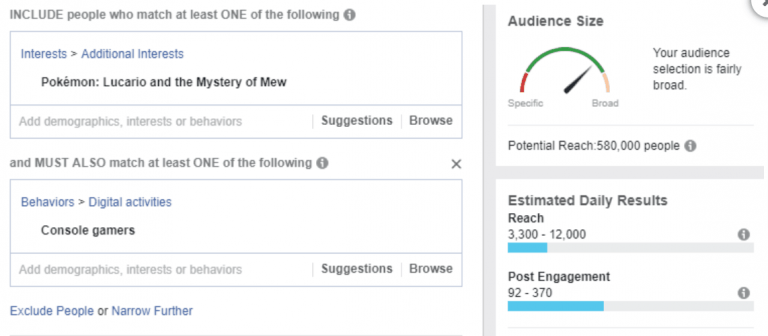 Untapped Winning Products
We briefly mentioned untapped winning products, which are basically products that Pedxa predicts are going to sell well. There is no guarantee of this, however, as there is less information about these products compared to the other products, such as having no proven Facebook Ads.
They still have lots of potential to sell but are simply more of a gamble. You'll still be able to check the products on AliExpress to gauge the number of orders, price, and other product info.
These still come with premade Facebook targeting profiles however, so you can easily attempt to sell something that is yet to hit the heights of other products – for now at least! Untapped winning products are clearly marked in green to differentiate them from other hot selling products.
Chrome Extension
A relatively new feature on Pexda, the Google Chrome extension is very useful by adding three new features, including AliExpress targeting, auto search, and make requests to Pexda (e.g. search AliExpress, Amazon and eBay for niche products and even make ad copy videos for you).
Pexda Pricing Options
Pexda currently offers three pricing options, with various features available through each of the three membership tiers.
Here's what you get regardless of the pricing option:
Access to unlimited products daily
Facebook Ad reports
Premade targeting suggestions
Ad Copy & Video Ads
Store reports (AliExpress, eBay, Amazon, personal stores)
Auto Hunt Tool
24/7 Support
Standard $1.95 for 14 days ($14.95 per month after)
The lowest price point is available with the standard membership, which gives access to all the features listed above.
This comes with a very impressive introductory price of $1.95 for the first two weeks before rising to $14.95 per month after this. You can cancel anytime too, so getting this option is a good way to trial Pexda to see if it's for you.
Also, while you do get access to the winning products, standard members must wait three days before getting access. This may not be much of an issue but does limit opportunities to jump on hot products before they go viral and sell out.
Premium – $24.95 per month
Pexda's premium membership includes all the features listed above that you get with the standard membership but with a few notable additions. This includes instant access to products as they are available, which is very appealing as it lets buyers get products with massive potential before standard members.
This is easily the best membership option from Pexda. The monthly fee is very reasonable and you get access to countless products to sell on your stores, along with ample information and reports to choose the best ones.
Ultimate – $99.95 per month
The highest tier membership, Ultimate members get access to exclusive products no other members do.
Limited access to certain products does give potential for a huge profit margin but this far form guaranteed, so we recommend the premium membership as it's much cheaper and still offers good range of products and instant access.
Final Thoughts
So, is Pexda worth the money? For us, it's a definite yes. This is one of the most comprehensive product finding platforms on the market. If you own any type of eCommerce or drop shipping business then Pexda has a lot to offer.
The range of products is varied and extensive, allowing retailers to buy pretty much anything they can imagine. Finding products is also quick and easy thanks to the intuitive search engine, which lets you hunt for specific products or just browse through popular categories.
Detailed reports on each product remove all the guesswork and hours of market research, letting you focus towards other important tasks, while rewritten copy and video also saves the time and effort creating your own content.
Premade targeting options are invaluable for anyone that is unsure of how to target their products to the right audience, again saving time, money, and a lot of work. Whether you're new to eCommerce or an experienced online retailer, Pexda is a worthwhile investment.
Pexda Review 2022 | Exclusive 30% Discount Code | Must Read
UPDATED FOR 2020 Pexda review product hunting software. Is it worth the price? Everything you need to know before you try. Discount Code Included.
Product In-Stock: https://schema.org/OutOfStock
Articles you might also like: