Email campaigns remains a powerful marketing tool that is used to increase sales and customer engagement. Even since the explosion of social media marketing, email campaigns remain one of the most effective marketing strategies used today, which makes sense when you consider that trillions of emails are sent every year!
However, creating and managing email campaigns is a time-consuming task at the best of times, which is where email marketing tools can be a massive help.
Using these tools, growing businesses can continue to attract new subscribers to their email lists while better engaging their current subscriptions, making it a worthwhile investment that saves time, effort, and a lot of money
That begs the question – what is the best email marketing tool currently available? For many, GetResponse remains one of the top email marketing solutions on the market today.
What is GetResponse?
GetResponse is an email marketing suite founded in 1997. Since then, the company has gone on to become a leading name in the email marketing industry, being touted as one of the best all-in-one solutions for creating and managing email marketing campaigns.
Perhaps the biggest reasons for GetResponse's continued popularity is the great range of features and impressive usability that is suitable for every level of marketer. Also, the flexible pricing options mean that it is easy to find a GetResponse pricing package that suits the needs and budgets of businesses small and large.
Anyone that wants to create growing subscriber lists, design and send engaging email and newsletters, and generally manage a successful email marketing campaign should certainly consider a tool such as GetResponse.
Want A 30 Day Trial For Free? Click Here
Features
GetResponse is a feature-packed email marketing suite that provides a range of functions for developing powerful email marketing campaigns to get new subscribers and engage current subscribers with valuable content.
With countless tools at your disposal, email marketing doesn't get much easier than when using GetResponse. Here are some of the core features of the platform:
Email Creator and Manager
As you'd expect from an email marketing platform, GetResponse features a solid email creation tool that lets users design custom emails for their subscribers. This can be done entirely from scratch using your own layouts, text, and images or using one of the hundreds of email templates.
Creating your own emails is very simple too thanks to the drag and drop interface, while the design templates offer a nice range of styles to quickly set up your newsletters.
Furthermore, the email creator tool lets users edit the HTLM code to suit their needs, while other useful functions such as preview messages and spam checkers ensure that the emails created tick all the right boxes.
Of course, design is only half the work when creating email campaigns – you need to choose the best time to deliver the email so that your subscribers are more likely to read it.
This is where functions like perfect timing and time travel shine. For example, perfect timing uses analytics to determine the best time to send an email to your subscribers, which you can then automate using the time travel function to send the email at the optimal time.
GetResponse also wants to protect the image of the marketer, which is why it uses built-in tools to remove any subscriber that marks emails as spam, ensuring high deliverability in the 99% range.
Using this feature is very straight forward thanks to an intuitive design where everything is easy to find under the email marketing tab.
Simply click on the function within this tab to create emails, which you can then manage from the email marketing tab that shows various analytics such as open rate, click rate, delivery date etc.
Marketing Automation
Marketing automation is another one of the core features of GetResponse, allowing users to automate various functions to help save time and resources.
For instance, autoresponders let you easily automate the time and date of any newsletter delivery, whether it's for a special occasion like a birthday or holiday or automatically responding with a thank you email to any new subscriber.
This is a fantastic feature for developing a strong relationship with subscribers. You can automatically set various emails that are sent to a subscriber at specific intervals to ensure they remain engaged and are more likely to click through.
However, while the autoresponder was the original automation tool that was a key selling point for GetResponse, they have now added an even more sophisticated workflow automation tool that takes things to another level.
Using an innovative drag and drop interface, the tool allows users to create what amounts to an automated flow chart based on certain conditions and actions.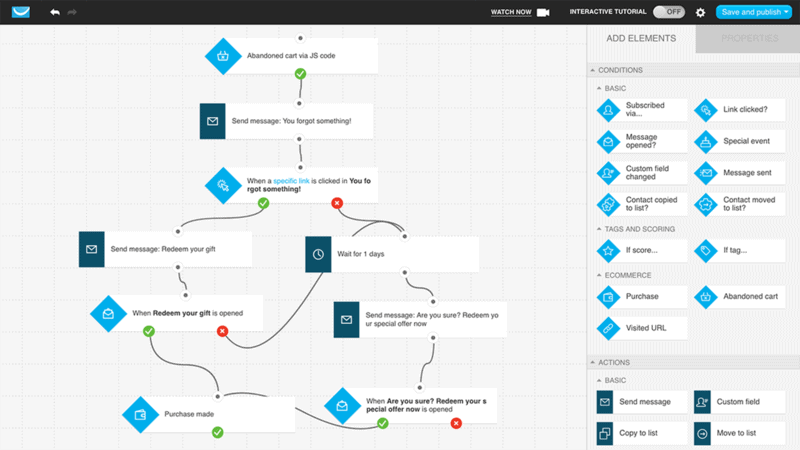 For example, if someone abandons an item in their shopping cart you can automate a response to this action, such as sending a reminder email.
Another example is setting specific commands for subscribers that don't open their email, such as sending different emails to these subscribers than subscribers that open their email.
There are countless automated workflows you can create using this function and it's surprising how much complexity they offer. This doesn't mean they aren't easy enough to use for beginners – GetResponse has some great video tutorials while the drag and drop function means it's quite simple to learn.
These automated features are an invaluable tool for any marketer. They save a great deal of time and effort (and therefore manpower) by creating autoresponders to almost any situation, making it easier to retain customers, drawback old customers, identify leads, and much more.
Better still, these features are not found in most of GetResponse's competitors, at least for such competitive pricing, highlighting how this marketing tool offers a fantastic ROI if used to its potential.
Landing Pages
Although an additional feature, the ability to create landing pages helps to raise GetResponse beyond a simple autoresponder into a full-blown email marketing platform. Here, you can create a range of landing pages to help obtain new subscribers with an eye-catching squeeze page and data capture form.
You can create these entirely from scratch, while there are hundreds of pre-designed templates, much like with the email creator. Again, a drag and drop interface makes creating landing pages very intuitive even for those with minimal understanding.
Furthermore, there are a few hosting options for these landing pages. For instance, you can host these landing pages entirely free of charge using a GetResponse subdomain or on any server you wish to use.
You do require an Essential Plan (or above) to use this feature, although it is impossible to buy landing pages separately for a flat monthly rate. While this may appear to make the service more expensive, it still offers exceptional value for money when paired with the other email marketing features, especially compared to the prices of some competitor software solutions.
Of course, not every marketer needs to create landing pages, so you won't be forced overpaying for the feature as there are cheaper packages that don't include it
Webinars
Similar to their landing page creation tool, GetResponse's webinar feature helps to elevate the platform above most others, especially in terms of pricing. With this feature, you can easily host webinars to subscribers, which is typically a marking strategy used to generate new leads.
Because your email database is integrated with this feature, you can send out engaging webinars to your entire mailing list with minimal fuss.
While an additional feature available with higher-tier packages, even when you include webinars with your purchase it still works out much cheaper than many dedicated webinar hosting services! You also have the option to host webinars for anywhere between 100 and 500 participants.
So, whether you're just growing your email list and want to get some new leads or already have a massive list and want to take advantage of the leads, there are flexible webinar solutions available with GetResponse.
All of this is integrated with the software package and your subscribers don't need to install any type of software, while there are one-click record, screen sharing, and online storage functions included with this.
Segmentation
One of the more challenging aspects of managing subscriber lists is creating appealing emails for every demographic. After all, no two subscribers are the same, so you want to ensure you have tools capable of delivering suitable content to targeted customers.
GetResponse offers an advanced segmentation tool for creating diverse email campaigns for all the different people out there. You can easily develop bespoke campaigns that are segmented for each user demographics you have, all of which helps to increase engagement across your entire customer base.
This means you can use appropriate text, images, products, and CTAs to get the desired engagement, with all content being relevant to your different subscribers. Dividing all your contacts into different subgroups is quick and easy, after which you can develop suitable email marketing strategies for each segment.
You can easily create groups in various categories, including geolocation, subscription date, last message date, engagement rate (opens and clicks) etc.
This feature – like most others – is very intuitive and powered by automation that helps to save a lot of time and hassle segmenting your subscriber lists for targeted campaigns. After setting the parameters, sit back and watch your entire subscription list be automatically segmented
Analytics and Reporting
Analytics are an essential part of any email marketing campaign – how do you expect to know how they perform without any data to analyse? GetResponse understands the power of in-depth analytics and reporting, providing users with a treasure trove of data to help mould their strategies.
Almost every detail you could wish for is included with the analytics page, with reports generated on everything from click-through rates and CTRs to what device each subscriber reads the email on. This is all found in the analytics page and is easy to understand without needing a marketing degree.
These tracking tools are useful for finding out information on subscriber actions like who are reading emails, clicking on links, unsubscribing, complaining, and any social media data like sharing the content on their social media account.
All this data is designed to help you better understand the success – or lack of success – of your email campaigns. You also have an improved sense of your subscriber preferences and requirements and create tailor-made emails that target these things to help increase engagement.
Better still, GetResponse lets you easily integrate Google Analytics onto the platform, so you'll all the data you need to develop highly targeted campaigns that get you even better results.
A/B Split Testing
GetResponse also offers A/B split testing functions that allow you to test the performance of different messages. Using this info, you can then develop the most engaging messages to targeted subscribers, offering a more personalized experience that is more likely to get the desired action.
You can set A/B split testing to up to 50% of your subscriber list and have various settings available, including content, subject, and send time, with the option to test up to five different emails for each split test.
RSS to Email
If you're operating a blog then this feature is very useful, letting you automate messages to anyone subscribing to blog. This means that whenever you post a new blog your subscribers get an immediate notification.
It's a simple yet effective tool for driving up engagement and helping to increase conversions and an example of the diverse range of email types available with GetResponse
Support
GetResponse offers solid support options for their customers, with a range of support services available. This includes email, phone, and live chat support options that come with fast responses and generally very knowledgeable support staff.
Live chat and email are both available 24/7 while the phone lines are accessible from 9am-5pm throughout the week. There is also a learning center resource that aims to educate users on the various features and functions available on GetResponse.
These are all easy to find and very helpful, particularly the short videos that give a hands-on tutorial for all the major features on the platform. There are standard support resources here, including FAQs, manuals, white papers, and more.
Another interesting support service is GetResponse's weekly webinars. These are live videos that not only offer customer support but tips and tricks for using the platform and general email marketing advice that can be very useful for newbies.
GetResponse also has a helpful blog and all the usual social media accounts where you may find fast and effective support. The blogs are very handy for learning more about email marketing – another useful resource for anyone learning the ropes!
Pricing

GetResponse has various pricing packages, ranging from basic packages suitable for small businesses to enterprise packages that are feature-rich and designed for businesses dealing with massive subscriber lists.
This makes it easier to find a solution that fits within your budget. Yes, many features are locked behind higher tier packages, although this is designed to ensure you don't need to overspend for features that may not be needed.
Plus, packages are very flexible in terms of subscriptions, with it being easy enough to upgrade or downgrade your package according to your needs. Some features, such as landing pages, can be added onto lower packages for flat rates, so there are pricing options to suit most requirements.
GetResponse plans include:
Basic £11/month
Essential £37/month
Professional £75/month
Enterprise £1,199/month
Each of these are the starting price plan and include a list size of 1,000. The bigger the list you need the more the service costs (except for enterprise which already includes 100,000 subscribers) with the maximum number of subscribers being 100,000.
Also, you can save up to 18% and 24% by subscribing to 12 month or 24-month plans, while there is a 30-day free trial that is great for finding out how good the service is. You get access to all basic features and a list for up to 250 subscribers – be sure to try it out to get a feel for GetResponse!
Conclusion
GetResponse is packed with a range of useful features that make email marketing so much easier. In fact, you'd probably be shocked by the sheer amount of functionality on offer with the service, especially with the higher tier plans that come with all the bells and whistles, especially the landing page and webinar features.
Even then, the basic plans have more than enough features to help SMB email campaigns flourish. The automation features are particularly useful, helping to save a significant amount of time and effort creating emails, while the analytics remove all the guesswork and let you use real data to guide your campaigns.
Best of all, you can take advantage of a 30-day free trial to see exactly how GetResponse works and whether it's the right option for you.
Take Me To GetResponse