Starting your own business can be tricky and also super tedious. But with the right ideas and a proven system, you have the potential to take your company to that next level. What you need is the right tool to help you track your visitors and sales, push products to the store, figure out what products are popular while also offering you the guidelines and assistance that you always wanted. And that's where Product List Genie comes into play. This tool helps you with all of that and so much more while making the process simple, unique and extremely easy to adapt to your own needs.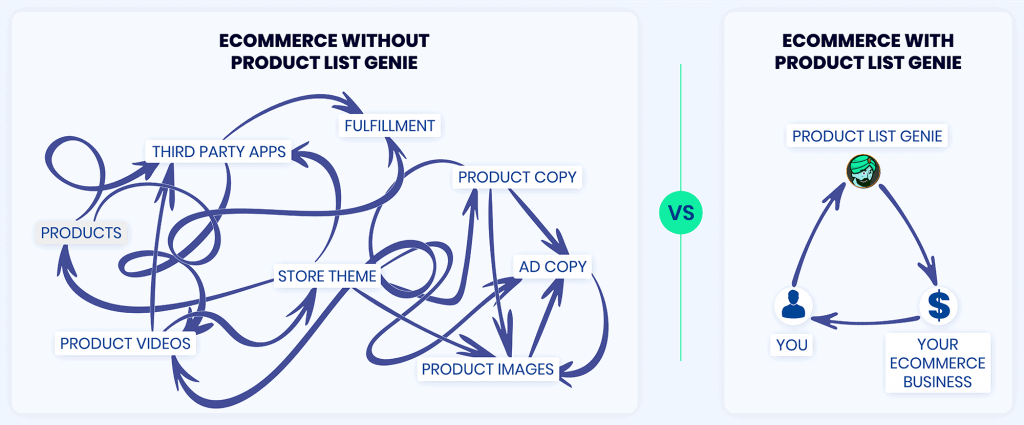 What is Product List Genie, and why should you use it?
Product List Genie is a software designed to help you find all the high converting products that are available on the market. It focuses on the idea of creating a good store where with just a few clicks, you can get the job done and enjoy the results.
Who created Product List Genie? The product was designed and implemented by a top-rated e-commerce coach and guru named Giancarlo Baraza. He has a lot of experience in training dropshippers how to make a good living, and this is a prime example of a good tutorial. The sheer idea of being able to find products that sell well will save you a whole lot of time and value in ways you would not imagine. All you have to do is to make the right pick, and the payoff will be extremely impressive.
Trending products
That's why most people use this tool in the first place. Being able to actively see all the trending products is like a dream come true, it gives all the ideas and features right in front of you, and it just makes everything work. On top of that, they have an audience genie that helps figure out whether the type of product that's popular right now will fit the audience requirements.
To make things even better, you have a Product List Genie single product and niche and category selection. That helps immensely, and it provides you with a vast array of options and features.
Included with this package, you can find a private network with exclusive e-commerce features and a bundle genie that adds product bundles with a single click. Not only does the app tell you what features to add, but it also brings in some really creative ideas, which is also very simple to use.
Aside from that, they also have an ecom stores list too, this makes it fast and straightforward to check your competitor's stores. As well as giving you some inspiration for product information and seeing what works for them so you can implement this in your own store.
It's a lot easier to start an e-commerce business

The main advantage for most people that use Product List Genie is that you can start your new business a lot faster. That's the main issue we all tend to have nowadays, starting a new e-commerce business is hard as you need to find the right products to sell, add all the product information and images, all of this takes a lot of time. With Product List Genie you get to automate all of that and put it on the backburner.
This tool will automatically find the best products, and then you can automatically populate the store at your own pace. It might not feel like a lot, but all these little things can help you save a ton of time and effort. Not to mention, you can save a whole lot of money too. Every detail matters and the more time you save, the easier it will be for you to grow that business and just take it to a new level.
Everything is Google-Ready
Another thing you will like about Product List Genie is the fact that it has the hottest products ready to list on Google. Having the products listed on Google helps a lot as it helps you promote the item via ads without actually making that many changes. In fact, you will end up with no changes at all.
Most of the time, creating Google Ads will be a drag. Thankfully, with Product List Genie and this particular feature, everything is mostly automated. That includes stuff like the maximum CPC, the campaign name, headlines, links, images, keywords, and many others. They even go out of their way to offer you an ad preview, so you know exactly what you are spending your money on.
Dedicated video resources
It's tough for an entrepreneur to know how to start his own business online correctly and with great success. Most of the time that will be a challenge, but Product List Genie helps you quite a lot in this situation. Aside from the automation tools, this app also has a set of how-to videos. They help you establish the e-commerce store while also figuring out all the steps you have to complete now that the store is ready to go.
The videos you can find here include reverse-engineering the competition, finding the right videos for Facebook Ads, importing prices, finding the best selling products and figuring out how to add them to your store. They also have an extensive collection of tutorials for google ads and a broad selection of other useful tutorials.
What we did notice, however, is that the videos are included in an upsell. They are not a part of the free trial, and you can use them only if you get the Product List Genie paid package. That makes sense as the amount of work that's gone into them it can't all be for nothing. However, most of this information can be found on YouTube, so it's not a gamechanger.
Pushing reviews to your products
It doesn't matter if you have lots of products if you don't actually have some reviews to show customers that these items are worth buying.
As you already know, customer reviews can easily make or break a product. And that's why pushing reviews to the products can help, and it makes a lot of sense. That being said, it's hard to do that manually. Product List Genie actually has its own reviews genie, a tool that helps you push customer reviews to the products in seconds. It will adapt to any product, and it automates everything to ensure you have a better presence.
Our experience with this feature was excellent. You just have to point the app to what items you need reviews for, and it will do it all for you. It definitely saves a lot of time, this is something we think will help a lot of store owners.
Professional services
Product List Genie does an excellent job of helping your website, and it goes even further with some really cool additional features that you can access. For example, you can get a professional store makeover if you want. To do that they have a website makeover service designed to optimise your store for the utmost success and quality as much as possible. It can be hard for a new business owner to create or even acquire a professional design that entices customers to click and check out their offers.
Another service provided by Product List Genie is a viral video creation service. This is a bit misleading, as it's just a video creation service. There's no guarantee that your video will eventually become viral, no one can state that. But it's still nice to see that added in there and it definitely offers all the benefits and support you need to create a professional video.
They go even further by offering ad ideas. Their ad copy service is designed to be as simplistic as possible while still bringing you some brilliant ad ideas that you can start using right away. This is an excellent feature, especially when you're struggling for ad-set ideas.
Pricing
Product List Genie comes with 2 packages that you can go for. You have the $67 a month basic package with the regular features or the Pro package with all the bells and whistles for $99 per month. We think this is a very fair price point as the sheer amount of features and time-saving alone would pay for this tool twice over.
There are similar services like Pexda, Dropship Spy that provide excellent services, but they lack many of the Product List Genie features, so this is definitely a fantastic investment for the money.
Conclusion
Product List Genie is an excellent tool for those that want to create multiple online stores and automate their businesses. It doesn't cost a lot per month, and the experience is professional and rather seamless for the most part. It does take a little bit to get used to the interface but other than that Product List Genie is a very solid choice.
On top of that, this is a fully customizable solution. And if you do need additional services, you can actually get them separately. It's by far one of the better e-commerce tools out there!
Product List Genie Review | Is It Worth The Money?
We've created the most indepth review of Product List Genie avalible online today. Everything you need to know before you sign up.
Product In-Stock: https://schema.org/OutOfStock
Articles you might also like: