You probably haven't heard of Sell The Trend, but not knowing what it is, you're missing out on the best dropshipping product research tool in 2019. Sell The Trend is different from many other dropshipping product research tools, simply because of its comprehensive and competent algorithm which sorts out all the products that are the hottest in demand. From Facebook ads to Shopify dropshipping examples, Sell The Trend provides you with an array of products that you can list for the highest gain. While using this product research tool, you are guaranteed to receive lists of completely authentic and fashionable products which have had rising demand and is speculated to be in the trend soon. This allows you to be ahead of your existing competitors and ensures that you sell the best product to your customers. In essence, Sell The Trend is everything you will never need for dropshipping.
An Introduction to Dropshipping
Dropshipping is, ideally, a hassle-free method of selling goods without incurring inventory costs. As a dropshipping retailer, you do not hold physical storage of the products that you put up for sale but instead, purchase an item from the actual supplier to be sent directly to the customer with their respective shipping address. This is incredibly profitable in terms of fewer expenses and a generally higher net profit, as you engage in the market despite not withholding an actual stock.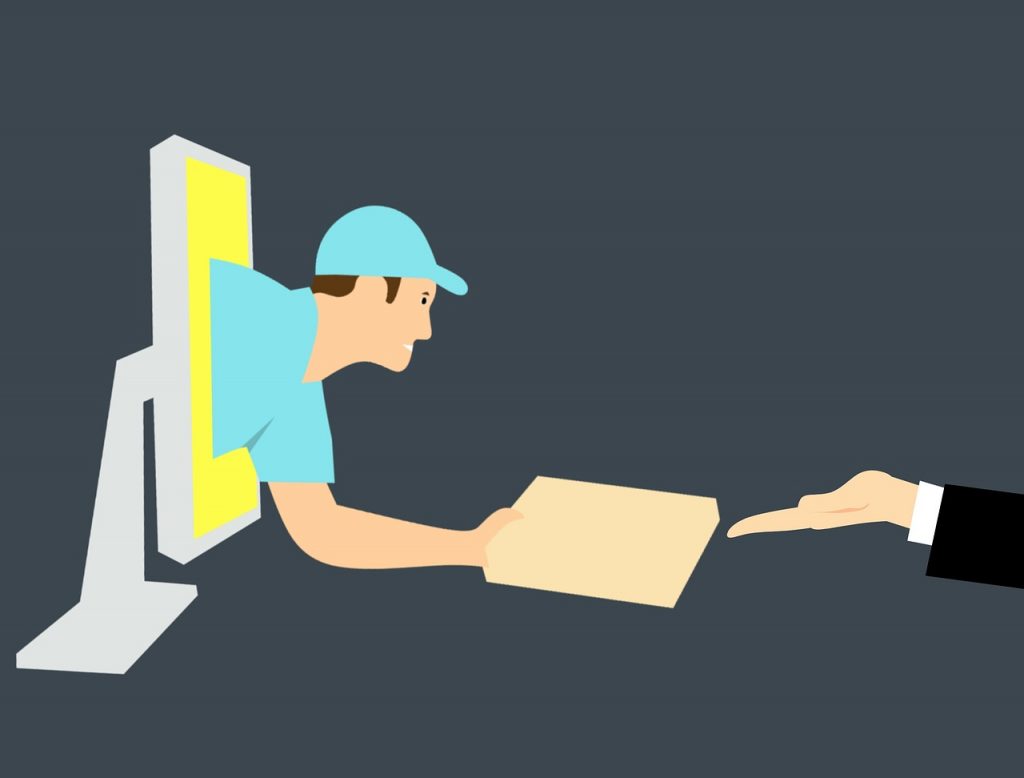 In contrast to the traditional means of commercial activity, engaging in such a type of ecommerce allows you to have minimal expenses. This is because you only sell a product when the purchase comes in, leading to no wastage of stock at all. Furthermore, since you will be purchasing from the supplier themselves, you might be able to benefit from wholesale discounts which will significantly lower the costs of purchase. Engaging in an ecommerce industry also signifies that there are minimal overheads incurred as the need for a physical storefront and its accompanying expenses are cut out. This is an industry that holds very low barriers to entry and completely minimal investment costs, resulting in average profit levels being higher than that from a traditional marketplace.
As a dropshipping retailer, the primary responsibility lies in arranging for the shipping and packaging, handling the tracking of the product from the manufacturer to the customer and to order and check up on supplier's stock levels. But, you will not be gaining much from drop shipping if you don't do adequate research on the products that you list up in your ecommerce store. Because it is a widely competitive market, engaging in ecommerce and truly attaining significant profit from it requires you to have the upper hand on your competitors. This can be achieved purely based on having products that will soon pick up on demand as well as selling genuine goods and of the best quality, to retain customer satisfaction. This is where Sell The Trend comes into hand, for it eases up your research process and directly links you to products with the highest demand and customer satisfaction rates.
Sell The Trend Product Research Tools and Product Research Procedure
When subscribing to Sell The Trend's product research platform, you'll be taken to a dashboard which includes a plethora of different trending products stretched out across popular platforms such as Facebook, Amazon, Shopify, Aliexpress and more. Sell The Trend's dashboard is pretty comprehensive and easy to navigate for all the tools and software are clearly categorized.
The top part of the dashboard in Sell The Trend is arranged with four boxes headered in bold with 'Today on Sell The Trend'. The first box represents the number of active products in the market, indicating that customers all over the world are actively interested in the purchase of such items and are paying to have them. With Sell The Trend's artificial intelligence technology, the number of active products can extend more than 2 million, allowing you to choose from many products. The other boxes represent the number of new products and arrivals in the market that are slowly picking up on sales and another that showcases which products are currently in high demand. The last block attests to how satisfied customers were with the purchase of these products, letting you scour through those items that have the best feedback from its buyers.
If you're confused about how to utilize the platform and navigate through its many product research tools, you can click on the top corner where 'Tutorials' written. This will take you to video platform with about 9 HD quality videos which give you a more in-depth insight into the different dimensions of Sell The Trend and how to make the best use out of it.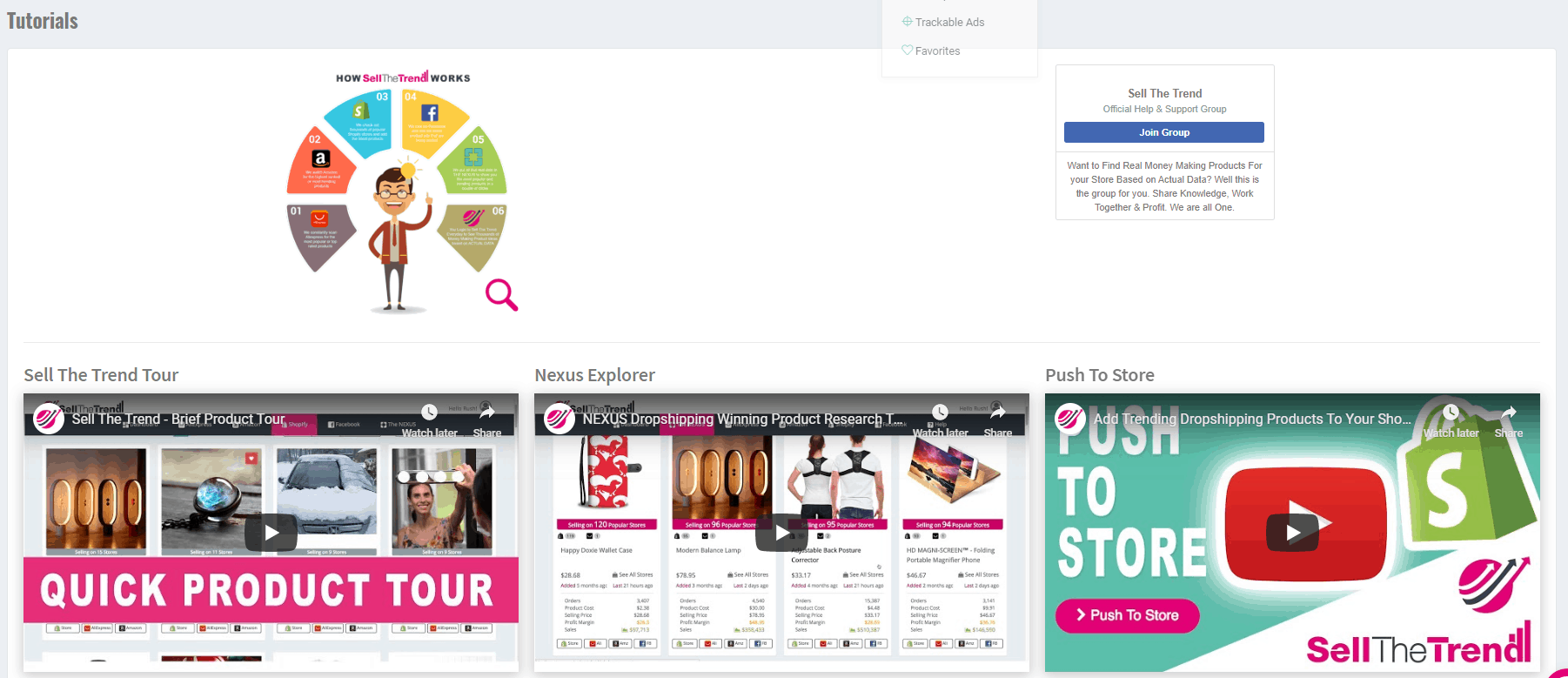 However, the most important part of Sell The Trend's dashboard is the number of icons that are evenly columnized for convenient navigation. You will find sections of product trend explorers which pertain to different platforms, including AliExpress, Amazon, The Nexus, Shopify and Facebook. Sell The Trend's product researching entails continuous searches and constant observation of trends and rising demands for the products listed on such platforms.
For AliExpress, it scans the website for its top-rated and most popular in-demand products.
While for Amazon, Sell The Trend observes which trending product reaches the highest rank in sales. It conducts a similar process of research in Shopify where their AI looks at thousands of Shopify stores and determines their latest and bestselling products.
On Facebook, Sell The Trend looks into the newest product ads and the amount of insights and click conversions.
Afterwards, the information is taken and put up in The Nexus for you to scroll through and identify the trending products that you wish to list in your ecommerce store. With its constant updates and improvements in research technology, Sell The Trend gives you the most updated and thorough list of products which you can use for your dropshipping purposes.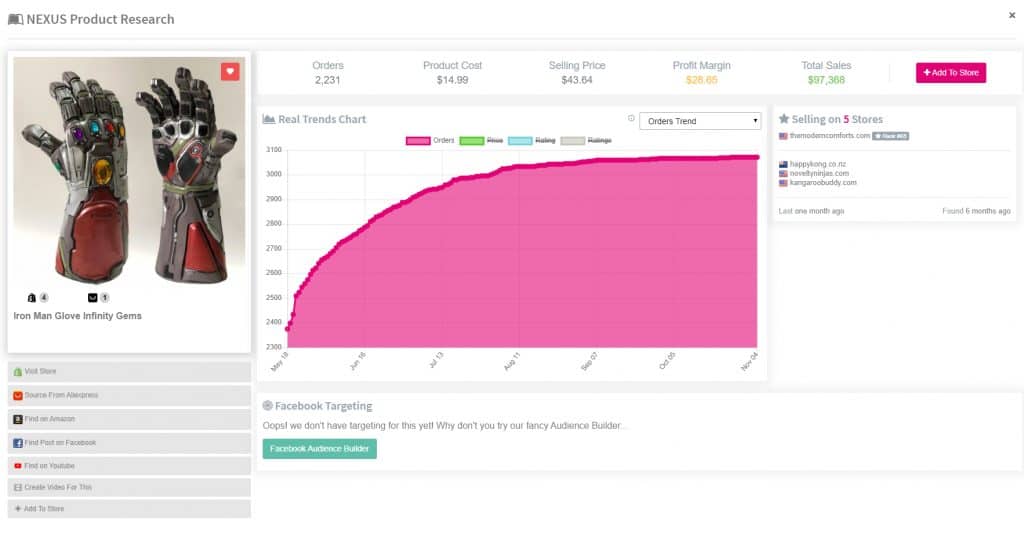 Sell The Trend Additional Features
Sell The Trend's tools, and functions are not restricted to merely the product research tools and their lists of trending products, but it also has multiple features which aid your searches even more.
Favorite Products Wishlist
If you're interested in a particular product and you want to want to view it again, you can save the item up to your wishlist by favouriting the product with the red heart on the top right corner. This makes it easy to come back and see the item later on, making the process extremely efficient.
Product Filtering
If you operate on a specific niche while dropshipping, you can ease up your research and find the products which best suit your business through the product filter functionality. Thus, you'll only look at items which capture your interest as well as your targeted customers', without having to waste time browsing through items irrelevant to your business.
Product Sorting
While the product filter function adheres to very specific searches, the sorting product functionality comes up with products that comply with a generic niche. Therefore, if you're a business selling jewelry but aren't exclusive in your product listings, you can simply choose jewelry from the list and find a plethora of necklaces, earring and other ornamental items. This is great for when you're open to a number of items which all go along with your general niche. Furthermore, if you're simply starting a dropshipping business, this feature allows you to get a clearer perspective on what you can sell in different niches, even enabling you to decide on your eventual niche.
Audience Builder and Video Creator Tool
Other than the tools above, Sell The Trend has also integrated an Audience Builder and Video Creator tool. These are incredibly helpful where the audience builder tool is a rather convenient keyword research tool for you to list down your targeted audience. You input a specific keyword while the software generates multiples of similar keywords and gives you targeted audience information on your inputted keyword. This helps you to sell your products to customers who have a specific interest in what you're selling, making the potential for profits higher.
Also, the video creator tool allows you to import different product images, alter text and create videos for greater audience engagement. This is perfect for your ad creation due to how simple the process is and the host of royalty-free music available per your requirement.
Is Sell The Trend Worth it?
As a product research tool, Sell The Trend outranks most of its competitors. With its simple interface and efficient as well as effective algorithm, Sell The Trend saves you time and effort from not having to conduct your own research which demands browsing through hundreds of pages over days. Instead, you can lie free of the burden as the software does all the hard work for you and you earn all the profits. Therefore, as a product research tool, Sell The Trend is a perfect tool for any dropshipper.
Sell The Trend Review | The Hottest Product Research Tool?
Our full review of Sell The Trend everything you need to know before you sign up. Is it really worth the money? Does it really work?
Product In-Stock: https://schema.org/OutOfStock
Articles you might also like: