Konversion theme is a premium theme on Shopify designed to optimize your e-commerce store for mobile visitors and offers features to help boost your online sales. Today 80% of store traffic comes from mobile devices, which means the interface of your store should fit the phone screen like a glove.
If a visitor has to adjust their browser to view a section of your store or zoom in just to click on the add to cart button, they'll likely bounce off of your store instead. Konversion theme also optimizes product sales by including features such as sales tags, countdown timers, deal of the day widgets, trust icons, collection banners, and more. Sure, you might find an app that has one of these sales features, but Konversion has them all in one place. In this Konversion theme review, we'll go over their features and what we think about them.
Product Pages
As a long time e-commerce store owner, I know an optimized product page is vital to conversion rates. If you're running ads to a product page, everything has to work smoothly. Anything that is off about your page can easily cause the customer to bounce. Konversion offers built in features, so that you don't have to mess around with the coding to try to add or remove a feature. This theme includes a banner image on a product page where you can add a custom image to the top of your page. We love how the product gallery has zoom-in capabilities.
Visitors can zoom in on the product images and there are arrows built in to switch images. With Konversion theme, you have the ability to add short descriptions under each image to highlight specific features to help customers to better visually understand your product. And of course, you also get features such as the capability to add related products to your page, trust icons, secure checkout badge, sticky add to cart, customer reviews, content tabs and variant swatches.
Collection Pages
With the Konversion theme, you're able to add smart collection pages that can be customized to the smallest detail. You'll have the ability to add breadcrumbs, and a left sidebar to help visitors with navigation. For example, if you have a clothing store, you can create a navigation bar to filter collections by color, size and other categories. Other features include adding titles and descriptions in your collection pages, banner images, and being able to tag all of your collections and products to help customers easily search for them.
Home Page
We love the overall versatility of the home page content that Konversion offers. The homepage is an opportunity to show off the best parts about your store and entice visitors to browse around. For those of you that enjoy a sales funnel type of layout, you can create one using features such as banner images, adding a YouTube Video, Loox Visual reviews, featured product, testimonials and more. The home page offers all sorts of features to display all of your collections, blog, content, Instagram feed, newsletter, google maps, and contact info.
Cart Page
The cart page is the final straw to get right before a customer decides to proceed with the checkout. Having a messy checkout process can ruin sales. With the Konversion theme, the features are made to help increase conversion rates. You can include trust badges, suggest related products, a shipping rates calculator, banner image that includes your logo and any customer content you want to embed such as Facebook comments.
Konversion Theme Support and Updates
With any theme, you want to have access to contact the support team or even developers in case there is a bug with your store. Konversion has a support desk with a knowledge base of articles to guide you on common problems and how to troubleshoot them. If you're still struggling, you're able to create a support ticket for a customer service rep to respond. You can even post your questions in their Facebook group community.
Page Load Times
You might think that the more you fill your store with fancy animations and graphics, the more impressed your customers will be. But the truth is, clogging your store with unnecessary apps and graphics actually slow your loading speed. Google algorithm factors in page speed when deciding where to rank your website against others. Amazon has conducted studies demonstrating that slower speed times drastically decrease sales.
Sometimes 1% of sales are lost for every 100ms delay in page loading time. According to their website, they were ranked in the 94 percent page speed score among e-commerce stores with a load time of 886 ms. What stands out about Konversion app is that using their plug-ins do not slow down their loading time whatsoever. You can use any of their 20 plug-ins in your store and still maintain super-fast loading times.
Pricing
With all of these amazing features, it is no surprise that Konversion theme is quite expensive compared to other themes in the marketplace. Konversion theme offers 2 different packages which is a Single License or a Buy 2 Get 1 Free option to save $197. With the single option, you get 1 store license, lifetime updates, free support for 1 year, a support renewal which costs $99 per year and a 15-day money back guarantee. For the 2 for 1 package, you get all of the same features except you get 3 store licenses which saves you $65.66 per license.
Personally, I'd recommend just buying the 2 for 1 package. Most e-commerce store owners end up creating more than one store anyways, so it's better to have it available to you.
Konversion Theme Review – Our final Verdict
In this Konversion theme review, we did our best to highlight the best features from their template. Whether you're an e-commerce owner just starting their first store or a seasoned pro, I believe Konversion Theme has all the tools you need to succeed.
First off, Konversion can save you money from cluttering your store with dozens of unnecessary apps that slow downloading times and has a recurring monthly cost that adds up. Since Konversion theme already has features that sellers typically pay for such as related products, trust badges, sticky add to carts and upsell features, you don't need to buy additional apps.
Next, it's essential to have a mobile optimized store. A store with a conversion rate of 5% compared to a store with only a 2% conversion doing $100,000 is a difference of $3,000 in profit! These are very reasonable numbers and that $3000 will cover your expenses for this theme tenfold (which you can write off on your taxes too!)
Konversion Theme Review 2022 | Everything You NEED To Know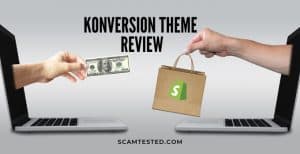 Konversion theme is a premium theme on Shopify designed to optimize your e-commerce store for mobile visitors and offers features to help boost your online sales. Today 80% of store traffic comes from mobile devices, which means the interface of your store should fit the phone screen like a glove.
Product In-Stock: https://schema.org/OutOfStock