So you've decided to take the plunge and try dropshipping using Shopify. Congratulations, you're well on your way to making some money online. However, you might be sat on the fence with what theme to go for, or wondering if a paid theme is really worth the money? So I've created this guide to show you our top picks of the best Shopify themes for dropshipping 2020.
Now, right away, it's worth mentioning you don't need a paid theme to make money dropshipping on Shopify. However, the themes we're going to mention are proven to work without lots of configuration. This makes the whole process a lot easier, which in my opinion is worth the time and money.
Best Shopify Themes For Dropshipping – Our Top 5 Picks
Ecom Turbo
Ecom Turbo has been created by Franklin Hatchett, who is a dropshipping professional. Obviously, straight away, this has its benefits as the theme has been created by someone who has actually made money from dropshipping.
Ecom Turbo has one goal in mind, sales. Every design aspect of this theme has been created to increase conversion rates. The theme itself comes with tons of premium features that would cost you a fortune if purchased individually . This includes; scarcity timers, upsells, custom footer designs, trusted badges, the list goes on.
Of course, this theme is also fully optimized for mobile devices with sticky buy it now buttons that also boost conversion rates.
As for the pricing structure, Ecom Turbo is also one of the cheapest in this buying guide starting at $97, but they also offer unlimited licenses for $147, which is a bit of a bargain!
I've also written a full Ecom Turbo Review, which you can check out.
The Booster Theme has been incredibly popular over the past few years for a good reason. This theme is very customizable and comes with multiple money-saving plugins as standard. As you would expect, the theme is perfectly suitable for any store owner, which is why we've included it in our best Shopify themes for dropshipping.
As standard, like most themes in this comparison, the booster theme is fully mobile optimized and looks fantastic on all the devices.
All of this does come at a cost; booster theme starts at $197 for a single license with the additional licenses costing you $497 for three. However, this theme is still an excellent option if you're serious about making money with Shopify and not one to be missed.
You can check out the full booster theme review here.
Shoptimized Theme
Shoptimized is a very successful Shopify theme, with mobile optimization being the main driving force. This is perfect for drophippers as the majority of traffic comes from mobile devices. The Shoptimized theme is packed full of useful features to help increase conversion rates as well as the user experience.
Shopitmized theme also offers lightning speed load times, which is another huge bonus. According to skilled.co 47% of your customers expect your website to load within 2 seconds! Anything more than this can affect your website conversion rate every second your customer waits.
As for pricing, Shoptmized theme starts at $167 for a one-store license, which is on the pricer side. However, this decreases significantly when you opt-in for multiple store licenses—offering three licenses for $197 and ten for $597.
Again, I have a full review of Shoptimized Theme here.
Konversion Theme
Konversion theme is one of the most popular dropshipping themes currently on the market. This is mainly due to how good this theme looks across all platforms, moble being one of them which this theme scales fantastically on. Again, the Konversion theme offers plenty of user customization. You can have this theme looking exactly how you want it.
One thing I loved about this theme is the customer service is very responsive. They actually replied to one of my tickets within a few hours, which is a massive plus if you're having issues setting up the theme.
As with most of the themes mention, Konversion comes with a plethora of useful plugins as standard. Some of these include a currency converter, countdown timers, and multiple pop-ups for deals, email opt-ins, and sales.
Konversion theme starts at $197 for a single license and $394 for three sites. It would be nice to see a few more licensing options to make this theme viable for everyone, but I still think it's the best vale for money.
We have a full Konversion Theme review here if you're interested.
Universe Theme
Outlane has created the Universe theme, perfectly suited for dropshipping. This theme can be set up within minutes. Outlane isn't your "typical" dropshipping theme, as it doesn't offer countdown timers or multiple popups. However, this is why the theme works. Customers have become a custom to seeing these stores and can spot a dropshipper a mile away.
What you do get with the Universe Shopify theme is a very professional sleek store. This comes in three styles Earth, Mars, and Jupiter. All are very customizable, so you can make your store unique. Outlane offers fantastic customer support and continually update the theme with improvements.
As standard, the theme comes with everything you need "out the box" so you won't need to spend loads of money on extra plugins. I do not doubt that you'll be able to make a lot of sales with this theme as a lot of big stores are currently using it.
The Universe themes pricing structure is very competitive, considering you're getting three theme styles. The standard license for one store is $180; three stores are $290 and $540 for ten. This theme is definitely one to keep an eye on and isn't as commonly seen as others mentioned.
Again, we have a full review of this theme here.
Conclusion
Well, there you have it, a mini review of the best Shopify themes for dropshipping. Although not always necessary, purchasing a theme definitely has its benefits. If you priced out purchasing all the plugins as well as time setting up the stores, then that alone would make the purchase worthwhile.
If you're serious about dropshipping, then you really should be investing to make your store a success. Not to mention the improvements in your store's conversion rates. Buying a premium theme is also a taxable expense, so what are you waiting for?
Check out all of our shopify store reviews here.
Best Shopify Themes for Dropshipping Guide (2021 UPDATE)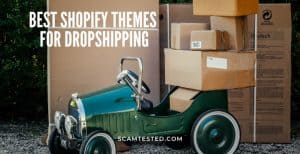 The ultimate best Shopify themes for dropshipping guide 2020. We review the top 5 themes to help you make money with dropshipping with Shopify.
Product In-Stock: InStock