If you're a dropshipper, you've probably come across Alishark and other product research tools by now. Alishark is a product research software that makes life easy for dropshippers by providing them with a library of hot selling products to sell and a statistical breakdown of the performance of each product. One of the main issues that Alishark addresses is how dropshippers continuously sell the same saturated products over and over. Many of the old winning products that have sold over 10,000 times won't work since advertisers have already squeezed out each and every sale from their audience. Instead, the key is finding untapped winners that are only recently trending and that other sellers haven't tapped into yet. In this Alishark review, we'll explain how their features can help you succeed as a dropshipper.
Filtering Options
Alishark has one of the best filtering tools in the market, allowing its users to filter their library of products in many ways. For example, users can filter their products by niches, categories, top countries, price ranges, shipping locations, total number of orders, total number of orders based on a specific time period, number of daily orders, votes (number of aliexpress reviews), wishlist added, video, date added, saved products, keywords, Aliexpress products, Banggood products, and even a button to randomize the products shown.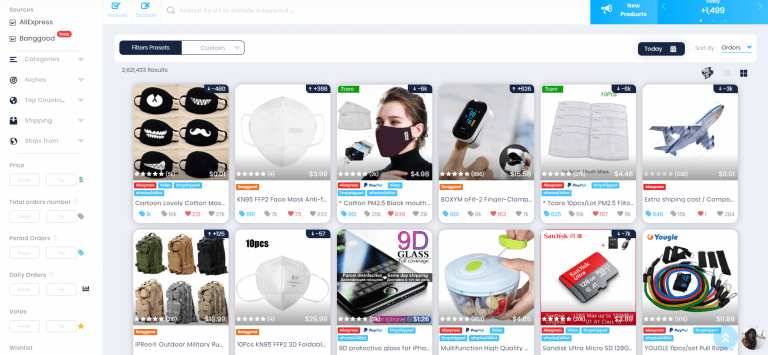 First, we should cover why filtering is important. If you want a library of products, you could just go to Aliexpress and view top-selling products. What makes product research tools unique is the ability to filter them by recent sales. If you find a product that has recently been uploaded and received 40 orders just yesterday, you want to hop on that product trend immediately. In the world of Aliexpress dropshipping, most products have a product cycle, and typically it doesn't last very long. Therefore, it's advantageous to jump on trends before the product is completely saturated with dropshippers. For example, imagine if you had started dropshipping fidget spinners in 2016, compared to 2017. In 2016, you might've been extremely profitable, whereas, in 2017, fidget spinners were already sold in stores everywhere and no longer had the same appeal.
In Alishark, users can filter by the most sold in the last day, two days, three days, seven days, and one month or whichever time period you prefer. Besides recency, as a dropshipper, you'll need other filtering options. For example, being able to sort by categories and niches is very important. You can sort by pet, home improvement, kitchen products, and much more. Many sellers have niche stores, so having this feature is a must!
As the e-commerce industry is moving towards faster shipping times, it's advantageous for sellers to begin sourcing products from their local countries rather than China. Alishark allows you to find hot selling products that ship from any country such as the United States, United Kingdom, Australia, and others. You can also filter by top-selling products in specific countries. So if you're an advertiser that typically only sells to the U.S. market, you can filter by trending products in the U.S.
AliShark also allows you to filter by videos as well. This way, you can find products that already have a video you can use to advertise with. Another excellent feature is being able to find products from other suppliers such as Banggood or eBay. With dropshipping gaining popularity, it's very easy for dropshippers to copy your products. However, if you source from a supplier outside of Aliexpress, it makes it much more difficult for others to copy, and you're able to find products that are hidden gems that other sellers haven't even seen yet.
Plug and Play
One of the major advantages to having AliShark is it's simplistic interface and plug and play options. With AliShark, you can add a product to your Shopify store with a click of a button. You can also find the supplier of the product with one click instead of having to search it up on a supplier's website. Another really cool feature is the ability to generate a video using the images and content that AliShark already has. Rather than having to spend the time to create your own video, this makes that process so easy. Some sellers might just steal videos, but that can cause copyright issues.
You'll also be able to find similar products to the one you're viewing. Say, you're looking at a dog bed. AliShark will show you other dog beds to also sell as well. These plug and play features save you hours of product uploading time, finding suppliers, and making an ad creative, so you can test products faster than ever before. The more products you test, the higher the chance you'll have of succeeding.
Spying Features
With this tool, you can see a graph of the product performance, like the number of sales they receive each month and how many people have added this item to their wishlist. As a seller, it's great to visually see this because you want to sell a product when it's starting to trend upwards rather than at its peak.
Products
One of the main problems with product research software is that the software itself can be over-saturated. For example, the Alishark Facebook Group currently has 5.1k members. If all 5,100 members are actively selling the same products because they are all using the same tool, that will only saturate the market quickly. That is the case with other product research tools since many tools only upload two hot products daily. With AliShark, they actually upload thousands of products daily and have millions of total products on their platform. Although there are thousands of users on this platform, many of them aren't using it daily. Furthermore, since thousands of products are being uploaded daily and many filtering options available, these untapped products won't be saturated quickly. Face it; most dropshippers don't have the bandwidth to test a lot of products at once. As a user of this tool, you may want to consider tapping into niches that are less popular or sourcing from outside of Aliexpress, such as Banggood, to ensure you have the best chance of success.
Pricing
When it comes to investing in any tool or product, you want to ask yourself two questions. First, what would be the return on investment from using this product? And secondly, could I do without this product? There really isn't any harm in simply going for the two day trial for $1 just to see how you enjoy using the tool, and it's interface. In my opinion, it's worth at least giving it a shot for one month. All it takes is one product, and a 1-3 sales to profit over $20. So the ROI on this product is tremendous. There are many alternatives to Alishark, and you could also do product research manually, such as by scraping ads on Facebook or going through categories on Aliexpress. However, this would take hours of your day, and frankly, we think your time is worth more than that. For the cost of $20, you'll be served a platter full of hot products ready to upload and advertise with a click of a button.
Conclusion – Should You Buy Alishark?
Now that you've seen all of the best features, you might be wondering if this product really worth my time and money? In my opinion, this is one of the best product research tools in the market and worth the money, whether you're a beginner or advanced dropshipper. $20 is a drop in the bucket compared to the amount of money you can make from this tool. AliShark will save you hours of having to manually find hot selling products. By doing it the "free" way, you won't even have access to all of the statistical data that you would find on AliShark. You'll also dramatically increase your likelihood of succeeding with dropshipping and find many winning products for your store. We hope that this AliShark review has helped you make a decision on whether or not to buy AliShark and give you an overview of how this tool can help you.
Alishark Review (2021) - What They Don't Want You To Know!
Are you looking for a new dropshipping product research tool? Our Alishark review updated for 2020 gives you everything you need to know before you decide.
Product In-Stock: https://schema.org/OutOfStock