Choosing a bad niche could be detrimental to your success in dropshipping and cost you a ton of wasted time and money. But if you choose a profitable niche that has a large selection of winning products with a wide audience to serve, then you'll have an easier path to a successful store. That's why we've created our best niches for dropshipping 2020 guide so you don't make the same mistake.
For those who are unaware, a Niche store is when a seller only sells one category of products. You might be wondering, why would I want to limit myself to one category of products when I can sell all kinds of products?
The Advantages of a Niche Store
A niche store allows you to create a brand around your products, which will increase sales conversions. For example, let's say you decide to create a dog store. Now customers will become repeat buyers and return to your store everytime they need dog products. A general store almost feels like a dollar store, since many types of products are smacked together. With these stores, there are too many products and categories which only confuse the buyer. The store with a brand simply has a higher perceived value and thus can charge higher prices than a general store could. Naturally, your store will look less cluttered since all of your products will revolve around one category. In this article, we'll go over the best niches for dropshipping. Once you've decided on your niche check out our best shopify themes guide.
Beauty Niche
The beauty niche has been a common staple in e-commerce, and we only expect it to grow in 2020. Some of the popular products for the beauty niche are hair straighteners, makeup brush cleaners, fake eyelashes, facial massage rollers, portable nail drying machines, and more. The reason why we love the beauty niche is because they are very easy to cross-sell and upsell. For example, a customer who wants to buy a blackhead remover might also want a facial cleanser. By simply searching "blackhead remover" on Facebook, we've found several videos with hundreds of thousands of views and two videos with over 1 million views on their advertisement. This blackhead remover vacuum costs about $13 on Aliexpress but is sold upwards of $30.
Another type of product that is booming in the beauty niche are hair clippers. Consumers are looking to handle their hair cutting and grooming needs at home. As you see on Google Trends, you can see the recent rise of hair clippers searched on Google.
Health Niche
There are so many different avenues you can go with for the health niche. For example, home fitness equipment products are currently booming. Over the last two months, it's at the highest it's ever been. Hopping on this recent trend allows you to capitalize on the major demand of the market. Examples of home fitness products could be TRX bands, workout mat, abs wheel rollers, ellipticals, dip machines, hip trainers, exercise bikes, and more.
One of the best selling products in the health space are Posture Correctors. At first glance, you might think these contraptions are only useful for individuals with severe back pain or the elderly. However, they have quite a large appeal to normal people. Most people sit at the office all day and have a natural slouch. This product is a quick fix solution to easily fix your posture and can be conveniently worn under your clothes. These posture correctors only cost about $4, but easily can be sold for $25 or more!
Kitchen Niche
The Kitchen niche provides a diverse opportunity to market to multiple segments of individuals. You can target fitness and bodybuilders interested in maximizing their fitness achievements through kitchen tools such as meal prep products. You can target busy professionals who would like to bring their home lunch by selling them an insulated thermal lunch box. There are also baking products to market to baking hobbyists, or you can have a product with mass appeal such as kitchen cleaners. Vegetable slicers have always churned out many winning products because there's always a new version of them being produced. Whether it's graters, vegetable slicers, meat choppers, fruit peelers, or even meal defrosting trays, they all enhance the cooking experience. Usually, these products are low cost, so they accumulate sales quickly.
Pet Niche
Pet owners love their pets and usually will buy them anything they need. I mean, who could say no to a cute fur baby running around their home? According to a recent survey of over 1,000 pet owners, Americans spend roughly $126 per month on their pets! There is so much potential in the niche such as pet toys, GPS tracker for pets, dog water bottles, deshedding fur gloves, cute pet outfits, pet beds, and more! For example, losing a cat or dog can be one of their biggest fears for pet owners, and having a pet GPS tracker is a great solution to prevent any of their pets from getting lost. Looking at the ad alone, this video had over 500,000 views. The tracker costs as low as $2-$3 on Aliexpress, but can be sold anywhere from $18-$40!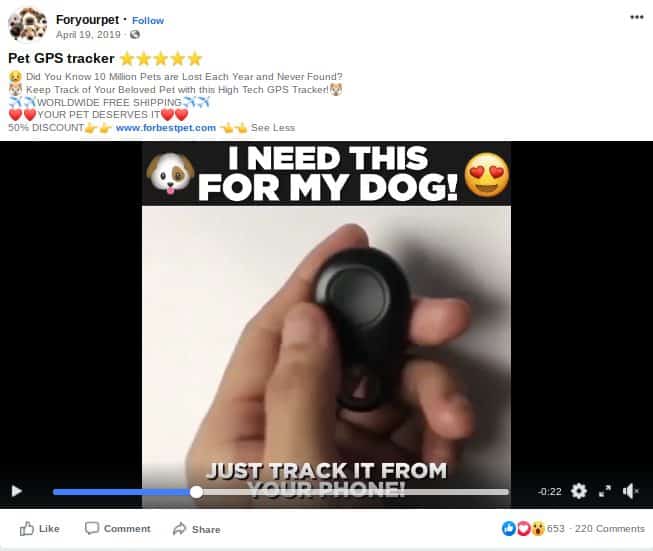 Home Improvement and Decor
Home improvement has such a mass-market appeal that with a unique product, you can practically just target the general public. In this category, you can choose night lights, humidifiers, home cleaners, wall mounts, bathroom organizers, and more.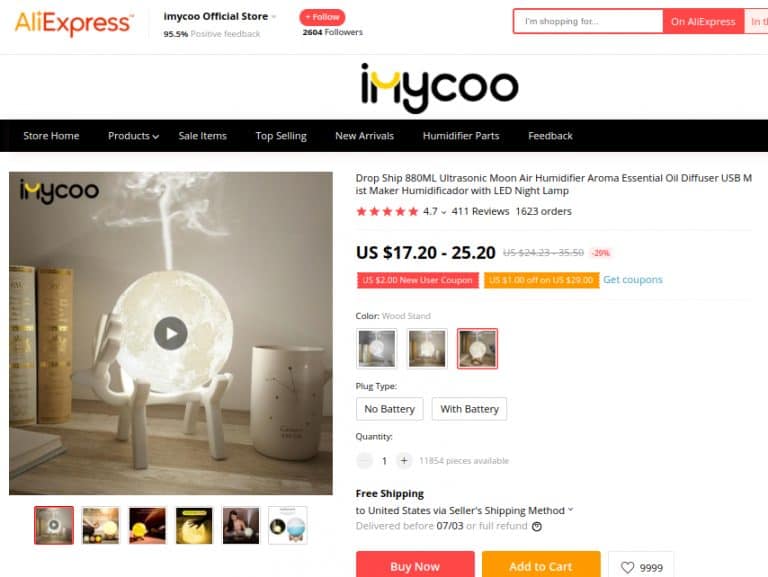 This product acts as both a nightlight and a humidifier. The 3D moon lamp was a huge hit for dropshippers, and now they've added a humidifier feature to it! With more information being released about the health and skin benefits of humidifiers, I believe people will be actively looking to buy them. Many humidifiers allow you to add your own essential oils to help people relax at night and feel happier.
Women's Clothing
When it comes to women's clothing, I don't mean just selling any type of bikini's or dresses. Consumers usually want to buy normal clothes from a well-established brand. I'm talking about specialized clothing such as body shapers. Although it sounds very gimmicky, body shapers offer a quick fix solution for women to look better immediately. Sure, people can do all sorts of fitness workouts and diets to achieve their dream body. But body shapers can be worn underneath clothing to make women look slimmer and accentuate their body curves. Just on Aliexpress alone, there have been suppliers who have sold these products well over 20,000 times! These body shapers can cost you $4, but sold at $20-$30!
Best Niches for Dropshipping 2020 – Conclusion
When picking a niche, it's best to choose from a larger category such as Health and Fitness rather than something very defined, such as arts and crafts. Having a broad niche still provides you with the flexibility to test a good amount of products. Once you've found winning products, you can begin to narrow down further. Remember, it's best to choose unique products that solve a big problem for your target audience. Unique products allow you to stand out in a crowded market place and stay ahead of your competitors. Now that we've uncovered the best niches for dropshipping 2020, we hope you'll take these ideas to create your own niche store and start piling up sales.
Articles you might be interested in:
Best Shopify Themes for Dropshipping