For those of you who are deciding on your online business, you may have stumbled on the business models Dropshipping and Affiliate Marketing. If you look at Google Trends, you'll find that dropshipping has exploded in popularity over the last two years, while Affiliate Marketing has really been quite steady in demand. In this article, we'll be explaining what is the difference between drop shipping and affiliate marketing.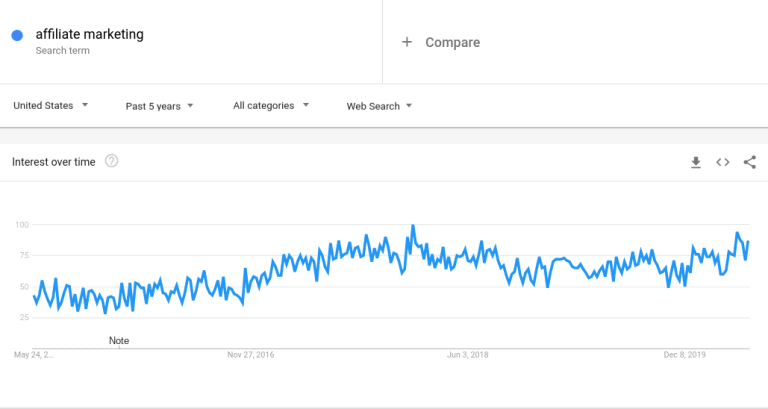 What is Dropshipping?
Essentially dropshipping is when you sell products and have the manufacturer directly ship them to the customer's address on your behalf. You don't own any inventory or buy any products upfront. You simply sell products that you predict are profitable, and you place orders once you receive the payment from a customer.
What is Affiliate Marketing?
With affiliate marketing, you are primarily selling or referring products or services to people. When people use your affiliate link to make a purchase, they receive a commission for that sale. There are plenty of resources on the web to learn the best way to learn affiliate marketing; it's crucial to do as much research as possible before you start, as this will increase your chances to be successful.   
Differences Between the Two
There are a few similarities between the two business models; you are selling someone else's products that you don't own. And another similarity is that both models require the business owner to fully control their own marketing efforts. These business models generally have very low start-up costs since all you need is a website and know how to generate traffic, and that's about it.
But there are major differences between the two, and we'll break what is the difference between drop shipping and affiliate marketing.
Affiliate Marketers Can't Set the Price or Change Commission Structure
With affiliate marketing, you are typically selling products or services that are already established, such as on sites like Amazon, ClickBank, ShareASale, and Rakuten Marketing Affiliates. These sites have specific commission structures for all their products or a different set percentage for each one. For example, Amazon affiliate commissions go as high as 10% for Luxury Beauty items and as low as 1% for video game consoles. You don't get to change the price of the items you're selling, and you don't have a say on what the commission percentage should be as well.
With dropshipping, you are selling the products on your e-commerce store and can have a 2x, 3x, 4x, 5x, or even 10x margin. In dropshipping, you have the ability to set much higher margins compared to affiliate marketing.
Dropshippers Need to Fulfill Orders and Manage Customer Support
As a dropshipper, you need to actually spend time to place an order for customers, answer the customer's emails, and handle any disputes. With affiliate marketing, you are acting as a referral partner. If a customer had a problem with a product, they wouldn't contact you. They would take it up with the seller, who actually sold them the product. This makes affiliate marketing, in a way, a bit more stress-free.
Commission Websites Have Long Payout Times
As a new entrepreneur, it can be frustrating to put in dozens or hundreds of hours of work, but your payouts come in slowly—for example, Amazon Associates payout every 60 days following the end of each calendar month. You'll need to look at the affiliate program to see how long each payout is. With dropshipping, your merchant can pay you as fast as two business days after receiving payment.
Affiliate Marketing is More Passive
Affiliate Marketing is a better passive income source than drop shipping. With drop shipping, you may see sales come in much faster. But you will constantly need to do product research to find new hot products and update your ad campaigns. For dropshipping, there tend to be other drop-shippers who spy on your ads and can easily undercut your price or even copy your ads. This means you always have to be on top of your game as a dropshipper.
With affiliate marketing, you still may need to update ads and continuously be publishing content to receive high traffic. However, most of the affiliate products and services are likely more evergreen. This means, even if you run ads, those ads will continue to work for a while. Or if you publish highly optimized SEO topics about golf products and rank on the first page. You may have published the article 2 years ago and still be receiving sales from that blog post years later. In essence, you're putting a lot of upfront work in the beginning, but still getting paid for it for years to come. Though not purely passive, it's much easier to maintain than dropshipping where you need to automate by managing an entire team.
Affiliate Marketers Aren't Limited to Products Only
With affiliate marketing, you aren't bound to only selling products. Say you're running a financial blog, you can refer people to the latest stock trading app. Or you can refer to other people's courses or even services.
What is the Difference Between Drop Shipping and Affiliate Marketing – Conclusion
In my opinion, this will depend on your financial situation. If you don't have money, you can get started with affiliate marketing for practically free by having a website, youtube channel, or social media platform.
But with Dropshipping, you can generate sales much faster with a few hundred dollars or $1000. This makes dropshipping much lucrative, especially in the beginning. Since you get to set your margins and are paid out quickly, it's possible to hit the 5-6 figure revenue months within their first year of dropshipping. For affiliate marketers, they tend to see traction on their website in a few months and don't fully see their rewards until at least a year into their journey unless there are large sums of paid traffic involved.
With that being said, both are excellent business models. With dropshipping, you can really transition into creating a long-term e-commerce brand selling one niche or one product. While with affiliate marketing, you can be the foremost authority within a sub-niche and earn money passively without doing active day to day work.