Over the last few years, Dropshipping has become increasingly popular. With the widespread content published around Dropshipping, many courses and gurus teach Dropshipping using platforms like Shopify and WooCommerce. Also, a majority of the Dropshipper's still use AliExpress to source their products. Until now, there hasn't been much of an alternative to Shopify. For example, if you have an existing brand or blog,  it can be challenging to develop a full-fledged e-commerce store and easily fulfill Dropshipping orders. With Alidropship, that all changes. In this Alidropship review, we'll be going in-depth about how it works, the pros, cons, pricing, and whether it's worth the buy.

Get 10% off with our exclusive discount code: Scamtested
How Alidropship Works
Alidropship is the alternative solution to building a successful dropshipping store without Shopify or Woocommerce. Alidropship works by installing their WordPress plugin and allowing you to upload products from Aliexpress onto WordPress automatically. Your store will work within the functionality of WordPress, but you get all of the benefits of a dropship store. For example, you can import products from Aliexpress, create product pages, track and fulfill orders, see your traffic and conversion stats, and view sales and profit.
If you decide to purchase the custom store, you will receive your dropshipping store on the Alidropship platform instead of WordPress. You will receive hosting and a custom domain along with a full-fledged library of templates to build out your store. With the store option, you get a set of ready-to-go products in your desired niche and a store that has been designed for conversion.
Best Features of Alidropship
One-Click Aliexpress Import
Their one-click product import from Aliexpress makes it easy to upload products to your store. Simply browse products through the plugin or head over to Aliexpress to browse products. You can use the Alidropship chrome extension to import products as well. Click on the product you'd like added to your store, and it'll be immediately added. All of the descriptions, images, and variants will be added. Of course, you can change or tweak these if you'd like.
Built-in Store Themes
Just like with Shopify, you get a handful of built-in store themes. You can choose from the themes that you'd like. Each theme has its unique design for the storefront, product pages, and check-out pages.
Automatically Fulfill and Track Orders
Similar to Oberlo or Dropified, you can automatically place orders. This eliminates the hassle of having to place orders on Aliexpress one by one manually. Instead, you can click on the orders you'd like and confirm the order on Aliexpress.
Add-Ons Available
To increase conversion rates and better optimize your store, having add-ons is extremely valuable. Add-ons such as review pages, one-click upsells, abandoned cart emails, bulk discount orders, countdown timer, and SEO image optimizer help you to increase your sales.
Pricing Automation
Supplier prices can change, and it's convenient to have a markup system in place. With Alidropship, you can automatically markup the prices if suppliers change their prices. Also, when importing products, you can set certain rules for pricing. For example, you can choose all products to have a 300% markup from the supplier.
Automatically Updates Products
Just like the pricing automation, Alidropship will update the product information such as specifications or images in correspondence to the changes in the data from Aliexpress.
Personal Manager
Being able to consult with a personal manager can be invaluable. Get advice on how to maximize your store control panel to operate your dropshipping business smoothly.
Niche Research and Best Selling Product Selection
Product research is one of the essential factors for succeeding in dropshipping. With the custom store option, their team will handpick products based on your requests. The products selected are current trending products and will be evergreen, meaning they will sell in the future. Many beginning dropshippers either pick unproven products or oversaturated ones. With this feature, you can increase your chances of being profitable faster.
Beautiful Designs
Design can play a role in gaining trust with your visitors. Traffic visitors want to land on a mobile-friendly and professional site that looks legitimate similar to a beautiful retail online store. If the store looks unbranded or looks like a foreign site, your conversion rates will plummet even if it is amazing. Their design team will make your store look stylish and unique by creating all of your visuals. This includes images, banners, and even your logo.
Pricing
WordPress Plugin Pricing
With Alidropship, you have several options to choose from. You can either get the plugin or order a custom dropship store.
For those of you looking for the cheapest option, you can purchase the Alidropship WordPress plugin for $89, this is a one-time fee and receives a myriad of included features. With the plugin, you get free updates and support, automatic of all the processes, unlimited products to choose from, and all the tools needed to manage your store. With the plugin, you can easily import Aliexpress products with one-click, conveniently integrate with WooCommerce, a list of 50 bestsellers from Aliexpress, and everything needed to manage your store. You get the functionality of tracking your stats, sales, profits, orders, and uploading products within the plugin's control panel.

Order a Custom Store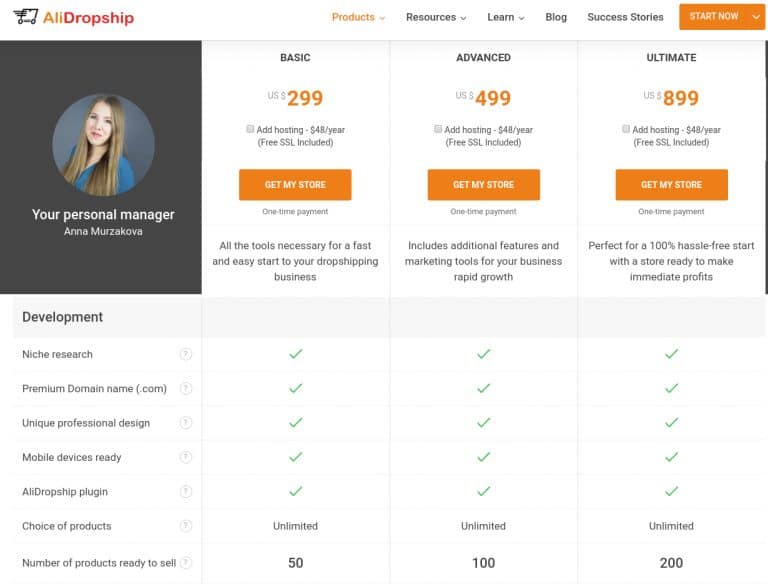 There are three different store options to choose from when ordering a custom dropshipping store. You can choose from the basic plan at $299, advanced plan at $499, or the ultimate plan at $899. There's also a bonus add-on upgrade for hosting at $48 per year with a Free SSL.
With the custom store, you're essentially getting a done-for-you service to have Alidropship create a store for you. The main difference in these plans is the number of products that are ready to sell. In the basic plan, you receive 50 products ready to sell, with the advanced plan you get 100 products, and the ultimate plan, you get 200 products ready to go. The custom store includes a dedicated personal manager to help walk you through the store to understand how everything works. Alidropship ensures that the products you receive have gone through in-depth niche research, and the products are in demand right now. The idea is to have Alidropship give you a turnkey dropshipping business within a few weeks. You get 100% ownership, a fully functional site with amazing design, and the best selling products in a given niche. It's also important to mention that you get a 30-day money-back guarantee and free lifelong support and updates.
Add-Ons
There are also a wide variety of add-ons that you can purchase. With an e-commerce platform such as Shopify or Woo-commerce, you would need to install the app and pay a monthly subscription fee for each feature. With Alidropship, you just need to purchase the add-ons once. Below we've listed the add-ons available and the price for each.
Beginner's Set ($120) – An All-in-one solution to start your business. It includes urgency timers, product bundles, reviews page, promo banner, SEO optimizer, and a supplier search feature.
Bulk Discounts ($29) – Sell more per order with volume discounts
Product Bundle ($39) – Boost your sales with custom item bundles
Promo Banner ($19) – Notify your clients about hot offers available
Upsell ($37) – Increase your average order value
Countdown Timer (19) – Create a sense of urgency
Abandoned Cart (Free) – Win back your traffic visitors with automated emails
SEO Image Optimizer ($39) – Improve website speed and overall SEO ranking
AliShipping ($29) – Import shipping methods from Aliexpress
GA Enhanced Ecommerce (Free) – Google Analytics eCommerce reports
Google Merchant ($27) – Product feed generator for Google Ads
Social Rabbit Plugin ($69) – Auto-run and promote social accounts 24/7
Facebook Business ($27) – Automate Facebook promotions to your feed
Urgency ($29) – Motivate shoppers to buy quickly
Reviews Page ($29) – All of your products reviews on one page
Customers Gallery (Free) – All photos from your clients on one page
Recent Sales Pop-Up – Highlight popular purchases to boost trust
Pros of Alidropship
Easy to use one-click product import from Aliexpress
One time payment for the plugin, custom store, and add-ons
Lifetime access to support to the Alidropship designers and developers
Easy to Install
Dedicated personal manager to guide you on how to use your store effectively
Cons of Alidropship
Costly if you know how to build your store
Add-ons don't have a free trial feature like Shopify does
Doesn't guarantee sales or teach you how to market your products effectively
Who's it for?
There are two types of people that we believe Alidropship is excellent for. First off, it's great for people who already have a WordPress site. If you have a functioning blog or website and want to add an e-commerce storefront to your site, then Alidropship is perfect for you. Rather than learn how to use Shopify or Woocommerce, you can install the plugin and begin importing products immediately to your site. This plugin can allow you to convert your WordPress site into an e-commerce store. For example, let's say you own a fitness blog, or maybe you're a personal trainer. Maybe you already sell your PT services or do some sort of affiliate marketing. With Alidropship, you can begin selling fitness products from Aliexpress. You'll have an amazing head start since you likely have an existing customer base or traffic, and you have a lot of knowledge about your niche. This makes niche research much easier.'
The other group of people who may benefit from Aliexpress are individuals looking to start their dropshipping business fast with some money to spend. The custom store is essentially calling upon proven designers and developers to help you build a fully optimized dropshipping store for you. Rather than spending hours figuring out how to set up your store, you can focus your energy on the marketing efforts to drive traffic to your store. If you already know your niche, it's best to prioritize your time on building out advertising campaigns and studying your competitors. This will help prepare you when you finally receive your store and are ready to rake in sales immediately!
Alidropship Review – Should You Buy It?
If you fall under the two categories of people that would benefit from Alidropship, it's worth buying. Given the low cost of the plugin, it's worth the shot to test out. Dropshipping is an amazing opportunity to get into, which allows you to sell products from anywhere in the world without holding inventory. If you're looking to build a brand that consists of dropshipping, but not limited to it, Alidropship is an excellent option.
With Alidropship, you can combine Affiliate marketing, dropshipping, and sell services all on one site. This is because WordPress is much more optimized on Google than Shopify. Let's say you own a dog website. You can write SEO optimized blog posts that garner a lot of traffic for free. The people who land on your article will see a lot of affiliate offers and products to purchase to help them with their pets. By having a WordPress site, you can take advantage of free traffic through SEO and sell multiple types of offers that aren't just products. This allows you to differentiate yourself as a brand, unlike most dropshippers out there. Even if you're a beginner without a WordPress site, we believe the investment is low enough to experiment with as a dropshipper. You can order a custom store and get a headstart by having experts at Alidropship handpick winning products. You'll also work with a manager to guide you on how to use your store properly. This alone can cut your learning curve tenfold.
We hope this Alidropship review has given you an in-depth insight into Alidrop and helped you make an informed buying decision.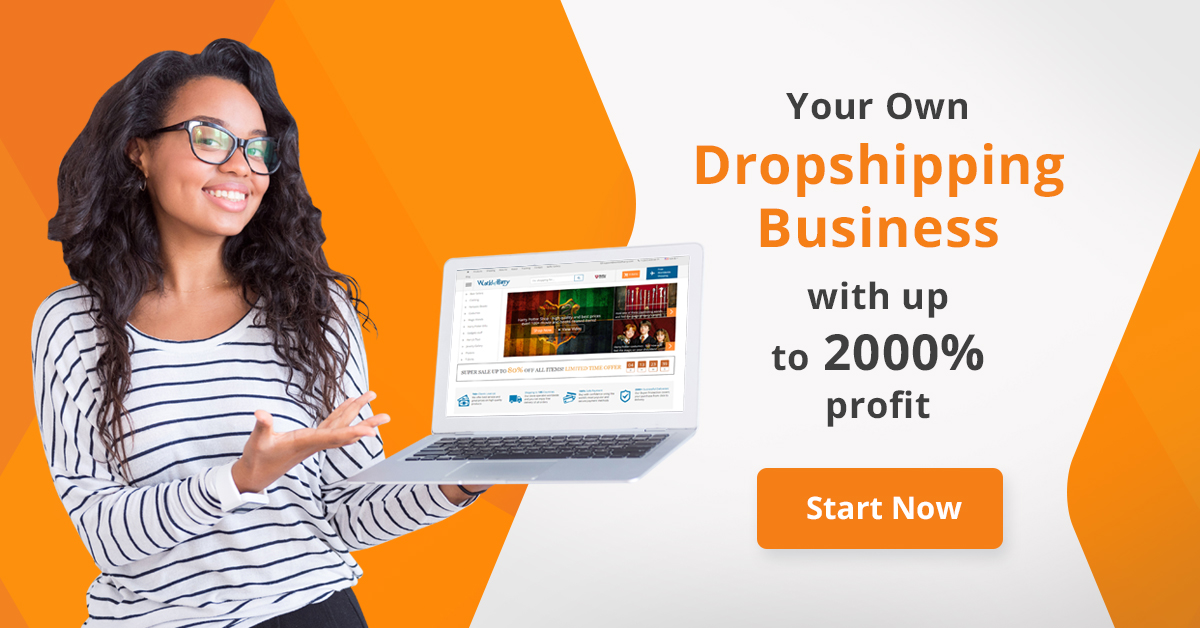 Alidropship Review | Exclusive 10% Discount Code
Updated for 2020 our Alidropship review includes everything you need to know before you decide to purchase. We also include our exclusive 10% discount code.
Product In-Stock: https://schema.org/InStock