Is email marketing dead? With the rise in social media platforms such as Facebook, Instagram, Twitter, Snapchat, TikTok, there's no way email can be relevant, right?
Wrong.
Email marketing is still a staple in people's lives, and you get full control of your audience. On social media, your one new algorithm update away from having your engagement and reach affected. Even if your email provider shuts down, you can export your list and use another email service. Follow our email marketing made easy guide and start utilising your email list now.
A research performed by Smart Insights and GetResponse found that email marketing is still more effective than most forms of marketing like Social Media, and Display Advertising.
Email marketing is a source of direct marketing to promote a business's products or services. You can bring awareness to your business's latest offers and new collections. Email can also be a place to educate your audience about your brand, build trust, and teach valuable information to help solve their problems. By positioning yourself as a trusted expert on a given topic, you can offer your service or product as a solution to their problem.
Importance of Email Marketing
Most Effective for Customer Acquisition 
The most effective direct response marketing source is Email Marketing. Your leads already opted in and have raised their hand to receive emails from you. Your job is to over-deliver by nurturing each lead and then closing them as customers. Once they're customers, you can continue the communication and retain them.
A study by emarketer in 2016 polled small business owners about the most effective digital marketing tactic that drives acquisition and retention and email marketing seems to be head and shoulders ahead of the rest in terms of driving results.
When it comes to return on your dollar spent, Email Marketing is king. People who subscribe to your list are part of your exclusive club where they get access to premium information and offers they won't see elsewhere. If you treat it as a special group to join, your engagement, such as open and click-thrus, will be much higher. Email is also very low costs. All you have to pay for is the email service subscription, which will depend on the size of lists and sometimes the number of emails sent out.
Direct Marketing Association performed a study that businesses, on average, make $40 for every $1 spent on email marketing.
Targeted Messaging and Personable
Email marketing gives you the capability to segment your list based on their buying cycle. For example, let's say you offer Personal Training services to moms post-pregnancy. Those who don't already work out are likely looking for a few simple hacks they can do. This segment would need more nurturing. This is where you need to inform them about the basics, such as simple exercises and foods to eat. Those who want an entire meal plan and workout regime would be closer to paying for your services. From here, you can create a sequence to explain why your meal plan and workout is tailored made for post-pregnancy mothers.
Not only can you create segments, as a receiver, you feel as if you're having a one-to-one dialogue with the sender. They'll use your first name, and when they ask a question at the end of their email, you can reply. Although you know they're sending it out to a group of people, it still feels more of a conversation.
Stimulates Action
People are trained to reply, forward, click-through, sign-up, or buy from email. The more your emails look like it's coming from a friend rather than a big company, the more likely you'll get a more personal response from the receiver, such as replies, opens, and click-throughs.
Measurable
Email service providers show you all the statistics you need, such as open rates and click-thru rates of each email and campaign. If you've segmented your list correctly, you can analyze which type of people respond best to your emails. It's essential to improve your email copy over time to be able to increase these metrics and split different test campaigns. Constant Contact displays their average statistics for various industries based on the information they've gathered. Over time, you'll figure out what type of messaging and offer that your audience responds to based on the statistics and feedback you receive.
Best Email Marketing Services
1. Constant Contact
Constant Contact is an excellent service for small business owners that allows you to send automatic emails and create contact segmentation. It also has very responsive templates and has unique features such as the ability to send out coupons, polls, and events. They tend to differentiate themselves by giving industry-specific ideas to help you succeed in your specific niche. Constant Contact also has a website builder platform along with their email service.
Free Trial: 60 Days
2. Send-In Blue
Send-In Blue is an all-inclusive marketing service that provides email marketing, marketing automation, chatbot, Facebook ads, and landing pages. The free plan is great for starters but is limited. For instance, you get only 300 emails to send per day, and it does not show you the open and click stats until you pay for their $39/mon essential stats.
3. Get Response
Get Response is also an all-in-one marketing platform, but best known for its email services. It currently has amassed over 350,000 users. Its unique features are creating landing pages and webinars. We love this platform because it has an intuitive drag and drops builders to create emails. This platform has all the features you need, such as segmentation, automated sequences, A/B testing, and a perfect timing feature to send emails at the best time of the day.
I think $49 is the best option to go with. You get all the automation features, custom workflows, abandoned order recovery, site and event tracking, and more. You can also score each contact and rate them based on their actions. As a result, you'll now get a clear picture of whether you need to nurture this segment further or able to sell them.
How to Succeed With Email Marketing
Build Trust
Can you guess the number one reason why people open your emails? It's not your subject line. It's your name in big, bold letters. In fact, in your email inbox, the name of the sender is in a bigger font than the actual subject line.
The trust you build crucial. You want your audience excited to read your daily emails. Almost as if a person is excited to open a Christmas Card or personalized letter from the mail. Here are ways you can build trust with your audience:
Deliver more value and less pitching
Answer all of their burning questions (be a mind reader)
Show results and testimonials of similar audiences
If you sell physical products, you can differentiate yourself with fast delivery, high-quality products, and explain why your product is better than other ones.
Know Your Audience
Understanding your audience on a deep level allows you to serve them better. You can use Google Analytics or Facebook Insights to gather more intel, such as their demographics and interests. Also, you need to know what their deepest fears and pain points are. Speaking to post-pregnant mothers, you may call out their insecurities about how they can't fit into their old jeans or wear their favorite summer dress because of the weight they have put on. All of your content and offers will be centered around serving their needs.
Create Specific Sequences
You need to create specific sequences based on where the customer is in their buying cycle. For example, there should be a welcome campaign with a series of emails to introduce yourself and your brand when they first sign-up to your email list. But if a customer has gone through an entire webinar, requested more info about a demo, or wanted to attend a class, these leads are ready to buy. You'll want to just prove you're the right option for them and close the deal. I recommend building out a handful of sequences to start based on all the possible scenarios a person would find your business and all the stages a lead would go through before they buy.
Curate Content Based on Audience Segment
First, you need to segment and categorize your list to filter the data later on quickly. For instance, you can build a segment for existing customers, high-tier clients, and leads. You can also categorize by whichever segments are most important for you. If you're a SAAS company selling your software to small businesses, you may want to segment them by when their current software contract expires.
Then create content based on their exact needs. If you only sell one service, it's quite easy to manage your content. But if you sell multiple products or services, you'll need to tailor your content and create a content calendar for each segment. For instance, a person who signed up for your gym's Zumba classes shouldn't be getting emails about the swimming lessons you also have to offer.
Track Analytics
The most critical analytics you'll find on an email service is their opens and click-thru rates. You can further segment your audience to groups of people who:
Did not open your emails
Opened by did not click-thru
Opened and Clicked-thru but did not buy
Purchasers
As you can see, knowing these analytics is crucial for retargeting and improving your current campaigns and sequences. If one sequence is getting a 1% open rate, it's likely bad messaging or a bad fit for that particular audience. Analytics gives you answers about what is working and what isn't working.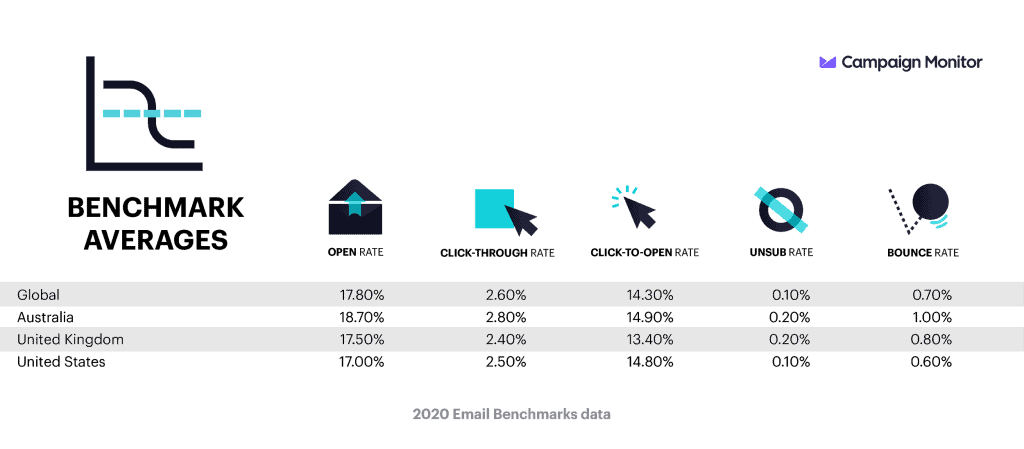 Email Marketing Made Easy – Final Thoughts
Email marketing can take up a bit of upfront work, but it's one of the best investments you can make in your business. With email, you're able to nurture your leads from cold prospect to ready-to-buy. It doesn't require the learning curve to understand social media advertising, nor does it cost as much.
I know email sounds like a thing of the past. But statistics show people check their emails 15 times per day or about 37 minutes per day. If you perform email marketing properly, you can expect to see an increase in the number of customers and higher retention rates!