Building a successful dropshipping store has many moving parts such as setting up your Shopify store to finding hot-selling products, suppliers, launching social media campaigns, fulfilling orders, and handling customer service. However, product research is one of the most impactful aspects of dropshipping. Without a huge demand for your product, you won't be able to get sales in your e-commerce business.
One way to simplify the process is to use product research tools to help you find winning products. This software saves you lots of hours and money testing random products from Aliexpress. This article will provide an in-depth ShopInspect Review by going over its features, pricing, and how it compares to other product research tools.
What Is ShopInspect?
ShopInspect is a product research and spy tool designed for Dropshippers to find profitable products to sell. This tool has scraped over 60 million products and 600,000 Shopify stores so that they can deliver to you the most trending products.
Users can search specific keywords for shops or products, and in turn, ShopInspect provides a detailed report. This report shares useful information such as how many searches that keyword is receiving, other relevant keywords used by your target audience, interest over time, and products that you can sell in your store. You'll also see how much the products usually sell for and how much profit you can make with each product.
With ShopInspect, you're able to find products gaining traction in the 'sales trends' on Aliexpress and find top-selling Shopify stores for my product.
How Does ShopInspect Find Their Trending Products?
They scrape daily sales data from sites such as Aliexpress and match with various Shopify Stores who are selling them. Additionally, they gather data from ad campaigns on social media to find winning ads. ShopInspect aims to find products that have significantly grown in sales over the last month. The fastest-growing products are tagged as hot, and the list of products are updated every four hours.
Best Features
Hot Trending Products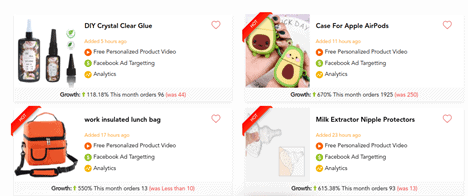 ShopInspect offers a full library of trending products that are listed in order based on recency. Under every product, you'll see the growth percentage along with this month's order volume compared to last. You'll receive a handful of trending products per day. With every product you receive:
High-quality product images
Monthly sales volume
Cost of goods
Product video
Analytics
Word Cloud
Customer Demographics
With this data, you'll receive all of the information needed to effectively market the product.
Shopify Products Search
If you have products in mind or sell in a particular niche, you can search for products to see whether it's trending or not. Every product gives you data such as their monthly visits, product price, product revenue, and the seller's product page. Take advantage of this tool by using Aliexpress or Google trends to find product keywords. Once you've found product keywords, search them here to find out whether it has a shot of going viral!
Most Popular and Trending Shopify Stores
ShopInspect has two categories to find competitor stores, which includes the fastest growing Shopify stores and the best selling stores. The best selling stores list the stores with the highest number of sales. You'll see how much revenue is being generated per month and their monthly store visitors. Furthermore, you can check their social media accounts and monitor how they promote their products. You'll also see what their best selling products are for each store.
Stores that are recently trending haven't yet caught the attention of other dropshippers, meaning you can catch the wave of newly trending products from these stores before they are oversaturated.
AdInspect
AdInspect is a powerful tool that allows you to type in brands, keywords for competitor websites to find specific ads. For example, if you type in "dog collar," you'll find a list of other competitors' ads promoting a dog collar. With every video, you get insight into data such as the number of likes, comments, shares, region, and average age. This tool shows you the exact ad copy, picture, and video to see what works and what doesn't work. Additionally, they have an advanced search option to filter ads by recency, ages, media type, gender, daily likes, total likes, etc. This means you can filter ads that are both recent and have the most engagement.
Demographics and Analytics
Under every hot trending products are custom demographics and analytics to help you gauge how you should market these products when you sell them. With the analytics, gauge you'll get the supply cost, shipping cost, recommend selling price, estimated product profit, and suggested interests for ad targeting. This helps you know who to target and your expected profit margins. The customer demographics shows you the popularity of the product in regards to their gender and age group.
Word Cloud
Word Cloud is an excellent feature to help you find related products and optimize current search engine products. This tool shows a list of keywords relevant to the existing one you searched for based on what other people search for. Sometimes sellers haven't optimized their product page or ads for keywords, meaning you'll have an easier time pinpoint the exact product that is trending. This helps you dive into a rabbit hole of finding the best product by finding the exact keyword. You'll also be given valuable keywords to use when crafting your product description and ad copy.
ShopInspect Dropshipping University
ShopInspect is a tutorial library with videos that demonstrate how to use certain features of this software effectively. According to ShopInspect, 78% of their users who watch their videos make more profit. This feature is excellent for beginners who need to grasp the basic concepts of dropshipping.
Dashboard
We enjoy the user interface of ShopInspect. Most other software have a very clunky website making it hard to find or difficult to use. This software has a black bar on the left column so you can easily access any feature you'd like. You can easily scroll through the products. Every product, store, or ad shows a preview snapshot of the data, so you can see whether you want to further inspect it.
Product Seasonality Indicator
ShopInspector automatically imports Google Trends data to give you an idea of whether or not it's the right time to sell a specific product. This graph shows a line graph of how the term "beauty" is performing in web search. Beauty ranges between 75 to 100 in search volume percentile over the last two years, to inspect it further, meaning the industry is quite steady year-round. Some products have seasonal spikes, such as Christmas products or winter coats. Use the graph to help you determine the seasonality or steadiness of a product.
Smart Score
The Smart score is an all-encompassing number that indicates the overall demand for the product keyword. You'll find the total number of searches for that keyword and the estimated monthly web searches. The score is based on a scale of 1-100, where 100 means that it is the best product to sell. The score is calculated by determining the average number of monthly searches and the number of competitors selling that product. 
The higher the search volume and the lower the competition will translate into a higher score. This means you'll have a better chance of profiting from that specific product. The Smart Score alone gives you a strong indicator of whether or not you should sell a product or not.
Video Generator
With most products, you can create a free product video to use for your ad creative. With a few clicks, you'll have your video ready to be exported. All you have to do is type in the various headings or subheadings you'd like in the video and select the product images you'd like to use in the video. Keep in mind this is a slideshow video and won't be as effective as recording your product video. However, it's an excellent way to test products fast without spending too much time or money on the ad creative. 
ShopInspect Pricing
ShopInspect uses a paid subscription model and varies in cost based on the plan that you decide to purchase. However, they do offer an excellent 7-day free trial period for new users to test their software and gauge whether worth their money.
What Are the Plans and How are They Different?
This software offers two plans, which are the standard plan and the legendary plan. The main difference between the two plans is the number of searches you get in each category. The categories that Usersads, hot trending products, products from other Shopify stores, other Shopify shops, top Shopify shops, and trending Shopify stores. Most other tools don't offer these features. With the standard plan costs $39 per month or $192 if paid annually ($16 per month). For the legendary plan, $47 per month or $228 if paid annually ($19 per month). The standard plan allows users up to 10 searches per day in most of these categories, while the legendary plan allows for up to 250 searches per day. The immense gap in the number of searches makes the legendary plan a better value plan. 
Advantages and Disadvantages of ShopInspect
Advantages:
Able to search hot selling products through keyword search
AnInspect enables you to spy on competitor ads
Smart score is intuitive and lets you know the chances the keyword will be searched
Provides insight on the seasonality of a product and interest over time
Show store revenue and traffic visitor data
Ability to spy on other competitor Shopify stores
Able to see demographic data such as gender and age groups
Shows the fastest-growing Shopify stores
Provides data on revenue and page visitors
Offers fast customer support through Facebook messenger
Has an affiliate program to earn extra money
ShopInspect Learning teaches you how to use the software
Able to generate video ads with a few clicks
New trending products delivered to you every few hours
Disadvantages:
Only provides one Aliexpress supplier for each trending or hot product
Provides a very limited number of Facebook ad targeting interests
Premium video products cost an additional $97 to generate high-quality videos
How Does ShopInspect Compare to Other Product Research Tools?
After testing the variety of product research tools in the market, we've found that ShopInspect offers unique features that others don't. Unlike other software, ShopInspect enables you to spy on other stores to see which products are generating the most sales for them. You'll be able to see useful stats such as monthly visitors and sales.
Another standout feature is the Smart Score. The Smart Score is a tool to determine whether a product is saturated or not. Just because a product is trending or has many orders doesn't mean it will perform well. Success in dropshipping also is predicated on the amount of competition for each product. The smart score considers the demand for the product in relation to the number of competitors in the market. If you find a product with a score of 100, you can almost bet it's a winner!
Final Verdict – Is It Worth It?
Every dropshipper should consider investing in a product research tool. Spending hours scouring the internet for random products from Aliexpress or social media can be time-consuming. Furthermore, you'll receive limited data compared to using software.
With that said, we believe ShopInspect is worth the money! Although it costs $47 per month, it only takes a few sales per month to recoup your investment. One winning product has the potential to generate you thousands or tens of thousands of dollars in profit.
But why choose ShopInspect over the other dozens of product research tools? In my opinion, it has one of the best combinations of features, including the trending product, product search tool, store search, Smart score, Adinspect, etc. The standout features of this tool are definitely the product search tool, Smart score, and Adinspect. These features aren't offered by most other tools. Sure it's not the cheapest tool in the market, but it's certainly one of the most comprehensive and best value tools! We hope you found our ShopInspect review helpful in deciding whether or not it suits your needs.
ShopInspect Review | What They Don't Want You To See
Our full ShopInspect Review is this the best tool for dropshipping product research? Everything you need to know before you decide to purchase.
Product Brand: ShopInspect
Product Currency: USD
Product Price: 16
Product In-Stock: InStock