Dropshipping is one of the most lucrative ways to make money online. Simply build a store and start selling products. But how do you find the right products to sell? Doing product research manually can take hours. It requires sifting through products on Aliexpress and a lot of trial and error testing them. This results in a lot of wasted time and money.
It's important to find trending products on the rise but not oversaturated with many competitors selling the same product. That's where product research tools come into play. Product research tools help you find winning products and see data in sales numbers, competitors, and the best suppliers available. This article will share our Ali Insider review and cover its main features, pricing, and whether or not it's worth the investment.
What is Ali Insider
Ali Insider is a product research software that enables users to find winning products more effectively. This tool helps you spot profitable products on Aliexpress by showing more granular data that Aliexpress doesn't show.
For individuals who are just getting started, you may be wondering:
What niche do I choose?
What products should I sell?
Which supplier to choose from?
What profits should I expect?
What's the competition and demand like?
Ali Insider provides real-time data so that you can make smart decisions on which products to start adding to your store. With Ali Insider, you'll get valuable insights into the competition's revenue, how many units they sell, and where they sell. This tool also helps you catch the trend before your competition checks the sales history and logistical reliability.
Main Features
Research Assistant
One of the main features of Ali Insider is the research assistant. Using the Ali Insider chrome extension, you can find important information above each product, such as AliExpress daily revenue, average daily sales, rising star, and logistical information. This helps you to scan through products quickly on AliExpress without having to click on each product. For example, as a seller, you want to choose the products with the highest average daily sales and highest average daily revenue. You'll be able to sift through the shipping logistics to help you see if it's a viable product to sell. Ideally, you're looking for products that have free ePacket shipping, meaning it's free to ship and includes a tracking number for each order.
Sales Tracker
On every AliExpress product page, Ali Insider includes a Sales Tracker feature. The chrome extension will appear and show you a sales graph of how well it has performed over the two weeks. You'll also be able to see the change in sales from this week compared to last week. Checking the sales graph and the sales change allows you to identify whether the product is trending upwards.
Logistics Tracker
Using the chrome extension, you can find out the time of delivery and price from each country that it ships to. Based on your preferences, you may look for the cheapest available option or the option that ships the fastest. For example, if a particular country has high shipping costs, you can exclude certain countries when advertising to prevent acquiring customers from that specific country.
Price History
Check the price history tab to find out the changes in supplier price over the last three months. For dropshippers, finding reliable suppliers is an essential part of the product research process. If suppliers frequently change their prices, it's a sign that you should stray away from the product since you won't be able to account for your profit predictably.
Competition Insider
Ali Insider allows you to spy on every competitor selling this particular product on either Shopify, eBay, or Amazon. You'll get links to your competitor's stores, meaning you can spy on their product descriptions, landing pages and price points. Ali Insider also shows the date they began selling that product, so you can check how new the product is. Find your top competitors and aim to make your product pages even better than theirs.
Dropship Insider
The Dropshipping tab shows you the number of orders being dropshipped daily and the daily revenue that the competition is earning from this product. In addition, it also recommends similar products that you can sell.
Suppliers Finder
Sift through the various list of suppliers for this product. The supplier's tab shows the supplier price, the total AliExpress orders, time of delivery, shipping prices based on the country and method of shipment, and the possible countries to ship from. It will also show you which suppliers include a video to add to your product page or ads.
Top 30k Products List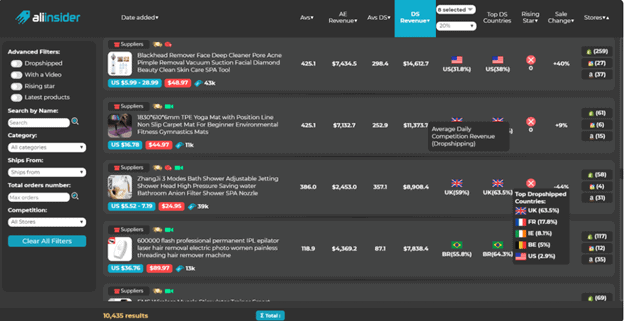 One of the stand-out features of Ali Insider is the top 30k products list. Ali Insider curates and frequently updates its list of products based on daily sales, revenue generated from each product, and sales change. If you don't want to sift through products on AliExpress, simply take ideas or select products directly from their top 30k list!
Rising Star
Ali Insider does the heavy lifting by highlighting which products are "rising stars." Rising star products are items that are flying under the radar but have the highest potential. These products have the highest AliExpress daily revenue or sales in relation to the total orders.
Advanced Filtering and Sorting Options
Inside the top 30k product list, there are advanced filtering options for you to sort out products that match your store. Here are the available filtering options available:
Dropshipped products
Top selling countries
Total number of AliExpress orders
Product search
Competitor's store's platform
Rising star
Category or search term
Products with video
Latest products
Warehouse location or ships from
Here are the available sorting options:
Rising star rating
Latest products
Average daily dropshipped orders
Average daily dropshipping revenue
Sales change
Average daily AliExpress sales
Number of competitor's stores
Pricing
Ali Insider offers two different plans: the free and premium plan. The free plan gives you the research assistant, competition insider, suppliers finder, sales tracker, and dropshipping insider. The premium plan includes many more features, including the top 30k product list.
The cost of the premium plan is $19.95 per month since it's currently their birthday promotion. However, it normally runs at $29.90 per month.
Which Plan Should You Get?
In my opinion, the premium plan is definitely worth it. You'll recoup your investment with just a few sales per month. The top 30k list sifts through the entire AliExpress product library for you, so you don't have to check each product category or product term. Not to mention, they're constantly updating their list and adding new products. Save yourself time by filtering the product you're looking for and choose from their selection. Since you can see the data such as sales numbers, daily orders, and competitor insights, you can quickly question which products to sell.
Pros and Cons of Ali Insider
Pros:
Sales graph and sales change helps you easily spot trends
Easily identify the supplier with the best logistics
Able to view average daily orders and revenue from each product
Identify every single competitor in the market for every single product
Able to see competitor revenue from product
Fairly inexpensive
Able to sort and filter to find your ideal products
Rising star helps you find undervalued products in the market with high upside
Cons:
Must need the Pro version to increase your odds of success
Unable to spy on competitor ads
Unable to automatically import products to your store
Doesn't give you any targeting interests or suggestions on how to advertise the product
Ali Insider Review – Wrapping Things Up.
Yes, Ali Insider is definitely worth trying! Since it has a free plan, you can spend time experimenting with their chrome extension to see how you like it. But if you're looking for better results, I recommend the premium plan.
It takes a lot of time to go through product categories to identify winning products. Why not let Ali Insider give you their list of best products? Ali Insider differentiates itself from other product research tools by showing valuable insight such as accurate average daily sales and revenue numbers. It also gives you the sales graph and sales trend, so you can spot trends quickly. Overall, we think adding Ali Insider to your dropshipping arsenal will help skyrocket your e-commerce business. We hoped you found our Ali Insider review valuable and has helped you on your entrepreneurial journey.
Ali Insider Review - The Best Product Research Tool For AliExpress
Our full review of Ali Insider product research tool for AliExpress. We cover everything you need to know before you purchase this tool.
Product Brand: Ali Insider
Product Currency: USD
Product Price: FREE
Product In-Stock: InStock