When looking for matched betting software, the two most common tools that come up are OddsMonkey and Profit Accumulator. Matched betting is a low-risk form of betting where users will bet on sporting events to make guaranteed profits by taking advantage of incentive offers or free bets by bookmakers. The idea is to have all outcomes of a match or sporting event covered to guarantee profits.
Every matched bettor who is serious about earning a good income usually subscribes to either of these two softwares. There's been a huge debate about OddsMonkey vs Profit Accumulator. We aim to end the debate by comparing the differences between the two and let you know what we think about each one.
Differences Between the Two
Both of these softwares are the most recognized and top-rated tools in the market by its users. Oddsmonkey is a matched betting service that lists new bookmakers daily. In addition, they share their strategies to guarantee a profit on almost all of your matched bets. Similarly, Profit Accumulator is another matched betting service that teaches its members how to succeed with matched betting and providing users with the offers, support, and tools needed to make a great income online.
Main Features of Each Software
Both services offer pretty identical features; however, the difference lies in how comprehensive each feature is. Some features may seem more basic compared to others that are more detailed. In addition, the interface and user experience also makes a huge difference in these two platforms.
Oddsmonkey

Profit Accumulator

Free Trial Available Here

Free Trial Available Here

Daily Offers Calendar

Match Catcher

Racing Matcher

Acca Catcher

Each Way Matcher

Profit Tracker

Acca Matcher

Each Way Catcher

Matched Betting Calculator

Extra Place Catcher

Dutch Matcher

Dutching software

Matched Betting Forum

Extra calculators

Profit Tracker

Tutorials

Extra Place Matcher

Free bet offers

Tennis Matcher

Forum

Active matched better community

Seven days per week of customer service

Seven days per week of customer support
Ease of Use and Interface
Navigating through the platform can help you stay organized and find the offers you're looking for. Personally, I feel they each have helpful features. OddsMonkey will show a list of offers and share how hard it is to profit, such as easy, average, and hard. In addition, they share a brief guide on the strategy users should take when placing that bet, and you can mark each offer as complete.
In contrast, Profit Accumulator is much easier to filter, browse, and sort through. Users navigate through the Oddsmatcher offers by sorting through various sports, market types, bookmakers, exchange, rating, minimum or maximum odds, availability, and time frame. You can even use their search bar to find what you're looking for. Not to mention, the design is much more sleek and modern for users to navigate through. We prefer the Profit Accumulator dashboard since it's much easier to use, and we can customize our offers to exactly fit what we want.
Advantage: Profit Accumulator
Odds Matching Software
Every matched betting platform will offer some sort of odds matching software. This tool is used to present all of the current odds and offers available from betting exchanges and bookmakers. With this tool, you can quickly compare different offers, which are crucial for matched betting and arbing. Both Profit Accumulator and OddsMaker have interactive and intuitive odds matching tools. Both tools allow you to filter by the type of offers you're looking for.
You can sort by date/time, events, type of bet, bookmaker, ratings, and profit. The Oddsmatching software helps ensure the bookmaker's odds and betting exchange are as close as possible, increasing your likelihood of winning. The idea is to keep your qualifying losses low and retain the highest amount of free bet value.
Advantage: Even
Daily Calendar
Once you've worked through the new account offers, the daily calendar will be your go-to page to ensure you earn a consistent income from matched betting. OddsMonkey and Profit Accumulator have a calendar that shares daily offers to you. Both calendars are very helpful and easy to use. Users can sort or filter by profit and difficulty. We recommend starting with the guaranteed profit offers first before making your way to the potential profit offers. Both tools allow you to hide, complete, or bookmark the offers. For example, you can mark the offers as completed once you've already placed your bets.
OddsMonkey does offer one extra functionality that we like. They offer a rating system where users can mark the offer a "thumbs up" or "thumbs down." This way, you will know what other matched bettors feel about an offer. For instance, if users frequently have lost money or had a bad experience with a bookmaker, they can mark it a thumbs down. As a matched bettor, you can stray away from those offers.
Advantage: OddsMonkey
Profit Tracker
The profit tracker is one of the most important tools in this service. Users can input various matched bets to see the amount of profit you'd make and how likely you are to be successful or unsuccessful based on the predetermined time periods. For instance, users can view their monthly or weekly profit and where exactly your profits are coming from. We've found the Profit Accumulator to be much quicker and easier to update. Furthermore, you'll find the monthly profit totals that you may be able to earn from each bet.
Advantage: Profit Accumulator
Advanced Matched Betting Features
Once you've become more advanced with matched betting and are looking to scale past the £1,000 per month mark, these features are necessary. Only more experienced players who have at least two or three months of matched betting experience should try these features.
Eachway Matcher
Each-way betting is placing two different bets: one for a horse to win and the other for it to place in any of the placed positions in that particular race. In other words, you'll win whether your horse wins or if it falls within the placement range. This is an extremely useful strategy for matched bettors to earn money even when their account has been gubbed. Gubbed accounts are when a matchmaker bans you from their free offers.
Both OddsMonkey and Profit Accumulator will show you the potential each-way bets that are available. However, with Profit Accumulator, their each-way catcher feature sorts all of the close matches for horse racing bets. This includes the each-way back odds with the lay and books odds. Users won't have to search for the best close each-way matches manually. Instead, this feature finds the best bets that suit your requirements.
Advantage: Profit Accumulator
Dutching
Dutching is another risk-free method of matched betting. This is where users will bet all possible outcomes of an event with different bookmakers instead of using a betting exchange. Since the odds vary, this ensures additional profit. Both tools will show you all of the available opportunities for dutching and how much-guaranteed profit you'll make from it. However, OddsMonkey has a more detailed dutching calculator compared to Profit Accumulator. With their calculator, you can enter your stake amount, bet type, odds format, odds, and commission. This helps you calculate the return and profit for your bet.
Advantage: OddsMonkey
Extra Place Matcher
Extra-place are bets that are only offered for horse racing or golfing. These extra-place bets can be quite lucrative. If the golfer or horse that you've bet on finishes in the extra-place, then you can win your lay bet and back bet for an enormous payout. Both services have created a useful tool to view where all the extra place bets are available and the amount of profit you can expect.
Advantage: Even
Accumulator Bets
Acca bets are ones where you link multiple bets together. Multiple wins must occur for your total Acca bet to pay off. It's a great way to jumbo up shorter prices into one big one. For example, if Chelse, Manchester United, and Arsenal all win on a given weekend, then you'll win the Acca bet. If one fails, then the bet would be lost.
One way to guarantee profits is to lay off a leg one at a time. Laying off a leg will ensure you suffer a small qualifying loss, but you'll receive a free bet, which can generate a profit to make up for the loss. Both platforms let you view potential accumulator bet opportunities and track profit.
Advantage: Even
Guides and Training Tutorials
Each platform has its own tutorials dashboard to help beginners learn the world of matched betting. You'll get a crash course on betting exchanges, how to place qualifying and free bets, and begin earning with a few of their free offers. The OddsMonkey tutorials seem to be slightly more comprehensive, but both are very good to help beginners get started. It's only more "comprehensive" because OddsMonkey walks you through more examples of how to place matched bets with free offers
Advantage: OddsMonkey
Customer Service and Community
In terms of customer service, both companies offer seven days a week of support. The times of support vary slightly. OddsMonkey offers support from 9 am to 7 pm, while Profit Accumulator offers support from 9 am to 5 pm. However, Profit Accumulator offers phone support, which is very helpful if you're looking for an immediate response. They also offer unique forms of customer service communication such as Facebook Messenger, Email, and Twitter.
In terms of the forum, both platforms are quite similar. Profit Accumulator does have a longer list of posts, and each offer gets its own unique thread on the forum. Users can ask questions on the forum, discuss any question, how easy it is to score a qualifying loss, and more. Many experienced matched bettors answer your questions, and the admins usually come in to respond.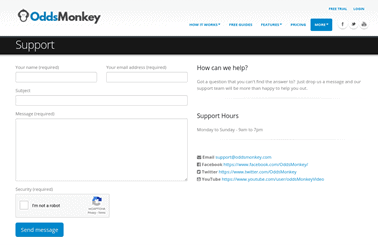 Advantage: Profit Accumulator
Blog
Although having a blog isn't necessary for a matched betting service, it can be quite helpful. Both platforms offer a blog that shares strategies and tips on succeeding with matched betting. Profit Accumulator goes over the basics of matched betting, such as tips to avoid getting gubbed, spread betting, in-play betting, and more. They seem to be inactive on their blog posts since their last published article was one year ago.
On the other hand, OddsMonkey offers up to date posts, where they publish about two to four articles per week. Many of their posts cover recent sporting event news, such as giving you the historical trends and favorites for the "I'm A Celebrity 2020 match." We think OddsMonkey has clearly put a better effort in terms of using their blog to give users up to date information on upcoming sporting events.
Advantage: OddsMonkey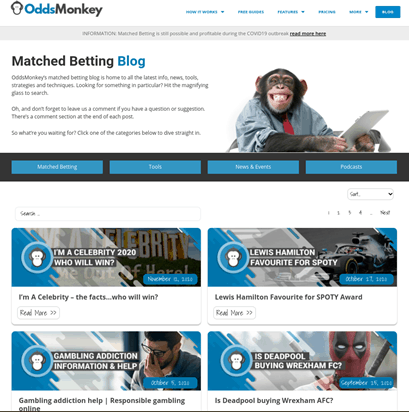 Affiliate Marketing Offer
Each service offers an excellent affiliate opportunity for users. Help others get started with matched betting and get paid to do it! Users will receive a special link, and when users sign up using their link, they receive a special 50% commission on their subscription. For example, if a person signs up for £19.99, you'll receive 50% of that every month!
Advantage: Even
Cost Comparison
Both services offer a free seven day trial with limited access to their software. However, the free trial will give new users access to some free offers and bookie bonuses to use. Currently, they are both priced very competitively.  
Oddsmonkey costs £19.99 per month and £180 annually. In contrast, Profit Accumulator costs £24.99 per month and again £180 annually. Both plans offer substantial savings when buying the annual membership options.
Since Oddsmonkey offers a slightly cheaper monthly rate, they get the edge on this one.
Advantage: Oddsmonkey
Final Verdict – Which is Best, OddsMonkey Vs Profit Accumulator?
So who wins the debate of OddsMonkey vs Profit Accumulator? Both are very similar in terms of features and ultimately come down to personal preferences. Profit Accumulator has a better interface and user experience, in our opinion. However, OddsMonkey has an excellent thumbs up and down rating system to help users navigate between the best bets. Profit Accumulator may have better casino offers, while OddsMoney seems to have more daily offers. In terms of tutorials and information are given, OddsMonkey has more informative blog posts and community. Once joined, you get access to a Facebook Group, so their community can help support you on their journey.
Overall, they're both excellent tools for all levels of matched bettors. My recommendation is to acquire both tools since they both have unique offers to provide. Why not take advantage of more offers? OddsMonkey might be more helpful to beginners since it offers more instructional help by providing guides for each bet. However, Profit Accumulator makes it very easy to sort, filter, and browse to get the offers you're looking for. We hope you found this guide to help decide which matched betting service you'd like to go with.
Oddsmonkey Vs Profit Accumulator
We compare the two matched betting giants Oddsmonkey Vs Profit Accumulator, one of our highest requested reviews. Which one is the best and which should you avoid.
Price: 19.99
Price Currency: GBP
Application Category: Matched Betting