Matched betting has been a phenomenon with the potential to earn a part-time or even full time living from it. There is a lot of software for matched betting, but Oddsmonkey is probably the most popular of them all. Oddsmonkey aims to make life easier for matched bettors by providing tools to find offers and earn higher profits. In this Oddsmonkey review, we'll go over their features and how it may benefit you.
| | |
| --- | --- |
| Free Trial | Available using this link |
| Customer Service | Excellent, via phone and email. |
| Money Back Guarantee | 30 days |
| Starting Balance | Minimal |
| Earning Potential | Very Good |
What is Oddsmonkey
Oddsmonkey is a matched betting software that provides users with daily offers from bookmakers to help them maximize profits. This software finds various offers from over 90 bookmakers online. As a result, players save time from seeing the bookmakers themselves and having to check their websites daily. Compared to other matched betting software, their signup offers are much more comprehensive, meaning it's easier to make quick profits. There's no risk for new customers since they offer a 30-day free trial. Oddsmonkey includes many user-friendly features to make matched betting convenient for users such as automatic lay better and matched betting calculator. This Oddsmonkey review will share everything you need to know about Oddsmonkey and how it can help you maximize your profits with matched betting.
How does it work?
Oddsmonkey has a daily offer calendar, so beginners and experts can view new offers every day. Once you've signed up with most of the bookmakers, you won't be eligible for welcome offers. Normally, it'll take forever to scour the internet to find updated offers. With Oddsmonkey, existing customers get exclusive offers direct to their inbox. These reload offers are displayed in an easy to read format, so you can quickly scan through them. If that's not enough, Oddsmonkey shares the strategy for guaranteeing profits with the offers listed.

Features and Services
OddsMatcher
At the core of Oddsmonkey is their Oddsmatcher feature. This software can find, sort, and compare various odds from both betting exchanges and bookmakers. It finds all of the best-matched betting opportunities for you so that you shave off dozens of hours a month and get more significant profits faster. With the Oddsmatcher tool, you can filter results by betting exchange, bookmaker, market, or sport. The built-in calculator will do all of the math for you. This feature also rates the information, so that users can see how good the matched betting opportunity is.
Daily Offer Calendar
Welcome offers and signup bonuses are just the beginning of matched-betting. Once you've opened all the bookmaker accounts that are provided in the Oddsmaking training section, you can begin working on the daily offer calendar. With daily offers, you get flooded with reload bonuses, refund offers, and other types of bonuses available. It'd be a hassle to check all bookmaking sites and betting exchanges for different offers. You can then hide and check off all the offers completed so that you don't come across repeated ones. This calendar also allows you to sort by start time and bookmaker name so you can easily find what you're looking for. The daily offer calendar can be the morning ritual that helps you rake in profits consistently.
Profit Tracker
It's challenging to track your earnings when you don't know your numbers. With the profit tracker tool, you'll know your daily, weekly, monthly, and even all-time profits. This tracker tool is easy to read and allows users to identify where they are making the most profit from. Users can then spend more time to focus on areas that help to generate them more money. The tool can automatically add amounts based on the bets you've placed inside Oddsmonkey. However, you can also manually add them to the tracker tool yourself. You can track your profits by specific sports to see if you need to work on certain aspects of each sport or method of betting. If any method or sport is causing a loss, you can course-correct or remove them from your betting portfolio.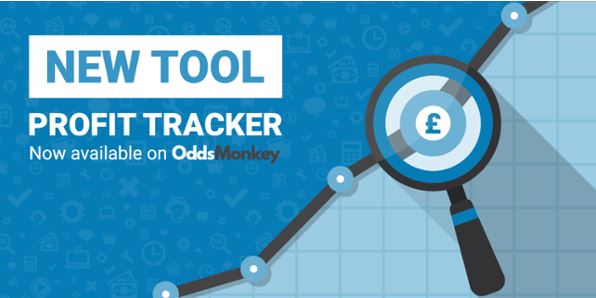 Racing Matcher
Horse racing can be a convenient and lucrative opportunity for intermediate and seasoned matched bettors. A sport like football only happens during certain seasons of the year. However, horse racing is a year-round sport, meaning you can profit from this consistently. There are small races to place bets on daily. But there are also large events like Grand National, Ascot, and Cheltenham. Oddsmonkey will display the horse racing opportunities that have refund offers and free bookmaker bets, so that these odds are pre-filtered for players to have the best odds to win. Since horse racing is a year-round, there are plenty of reload offers to help players make recurring income. Oddsmonkey filters out bookmakers that are not currently running any promotions on them to save you time.
In-Depth Training
Oddsmonkey does an excellent job helping beginners to get acclimated to matched betting and learn the ropes. They offer hundreds of step-by-step guides and video tutorials to help matched bettors of all experience levels. With the free trial alone, they walk you through three live bookmaking offers and promise to help you understand matched betting in less than an hour. Once you get the premium, you have access to their full library of videos and guides.
Acca Matcher
Placing accumulator bets are ideally for advanced matched bettors. This means that you place a condition that multiple parties must win for you to win your bet. Suppose there were three football games on. You'd have to bet the correct outcome for all three games. The advantage of accumulator bets is the payouts are extremely high compared to placing individual bets. Sometimes there is Acca insurance where you can get an exclusive offer or free bets for placing these accumulator bets.
Accu Matcher offers two tools to help with your accumulator matched betting, which is the Acca Finder and Acca Builder. Acca Finder has an updated list of over 2,000 accumulator offers available. It analyzes over 100,000 bets at once. What makes this feature stand out is the sorting ability. Acca Finder offers are sorted by EV, meaning Expected Value. The Expected Value shows you how much money you're able to make overtime and the probability of a team potentially losing. With the Acca Builder tool, you can build your accumulator bets in which you can qualify for. You're able to set certain conditions for your preferred Acca method such as 'lay at the start,' 'no lay,' 'lay sequential lock-in,' and 'lay sequential.'
Dutch Matcher
Dutching is a method of matched betting used by mostly advanced bettors. Bettors will back all possible outcomes during an event such as in a horse race. This is a typical alternative to lay betting. With Dutch matching, you can match odds between bookmakers with the use of betting exchanges. As a bettor, this will save you hundreds of pounds on commission fees. Rather than trying to figure it out yourself, Dutch Matcher will determine what stakes you need to wager to mitigate the loss and maximize your profits. With Dutch matching, it opens the door to many more opportunities to bet than regular matched betting offers. You'll also be able to complete two wager requirements at the same time. For example, if you struggle to bet on horse races or golf tournaments, this is the method for you. You can easily use Dutch between two or three bookmakers at once so you can easily optimize your chances to win. For football, you can bet all three outcomes of a win, lose, or draw. Essentially you'll break even and win your money back no matter the outcome. There's a built-in calculator with this tool so that you can calculate your stakes and how to split these between the bets. If you change your stakes, you can simply let the calculator do the work for you.
Each Way Matcher
Each-way betting is a more advanced method of matched betting. For sports or events where placing is involved, you can earn money by simply placing in the competition. Usually, each way betting can be used in sports such as horse racing, sportscar racing, and golfing. Let's say you place a bet on one horse to win. You'll then place another bet on the same horse to place. This means they must finish within a preset position. Usually, this means the first, second, third, or fourth place position. This tool analyzes from over 50 bookmakers from the place bets and opposing wins. This tool ensures you get the best odds for your each-way bets. There are usually each-way bets to be made daily so that you can make consistent profit from this method alone. With this tool, you can rank the odds data from each way matcher, so you know which horse or player gives you the best chances of winning. You'll also be able to use the free bets combined with each way betting to earn more. This tool lets you find offers to place lower qualifying bets to mitigate losses, which are useful for second or third place refund offers. Lastly, this method works for gubbed or restricted accounts, as well.
Extra Place Matcher
An extra place matcher capitalizes on each-way betting. An extra place is similar to each-way betting, except bookmakers may add an exception by including an additional spot or extra place finish. For example, a bookmaker might allow a fifth or even 6th place finisher to be awarded. This means bigger payouts for you. OddsMonkey has the extra place matcher, which sorts and displays the data. This will show you the best-priced horses and the highest-rated horses used for backing and laying. There's even a save button so that you can remember your previous winning horse combinations for future horse races. Sometimes bookies only offer extra place finishes for particular horses so players can capitalize on the odds by picking the best ones of those choices.
Matched Betting Forum
An Oddsmonkey forum is a place where community members and the Oddsmonkey team can work together to help each other. More experienced matched bettors can chime in with their expertise, while the Oddsmonkey staff can also provide a detailed answer on how to troubleshoot or maximize their software. Members can share tips, ask questions, and receive advice on anything related to matched betting in the United Kingdom. There are matched bettors of all experience levels, so it's a great way to other like-minded individuals. Also, members can read the Oddsmonkey comprehensive blog to find articles on any aspect of matched betting they want to learn about.
Videos and tutorials can only help so much. Sometimes matched bettors might face a unique scenario that requires someone who has gone through a similar issue. It's an excellent place to ask for help or help out others. By jumping in on conversations, many members have found new exciting offers that may have just been released. Learning from others is a great way to accelerate your growth as a matched bettor and learn the methods they are using to rake in more tax-free cash. In their forum, you'll also find a myriad of success stories so that you can see someone else's journey and inspire you to succeed. The forum is straightforward to navigate. You can browse by recent, most popular, unread posts and even search for posts. You can search for any topic by clicking on the magnifying glass and find discussions on more detailed topics.
Casino Offers
This often catches everyone's attention. You can easily exploit casino and bingo offers using Oddsmonkey. Although they usually focus on matched betting offers they regularly have casino offers as well. They provide an EV calculator on their website, through which you can calculate whether the offer from the casino is worth doing and whether it is profitable or not. Casino offers always carry extra risk as there are no guarantees however, they can be very lucrative if done correctly.
Matched Betting Calculator
With the Oddsmonkey Matched Betting Calculator, you can crunch in the numbers to see how much to stake your lay bets on betting exchange websites for guaranteed profits. You'll be able to view both free and normal bets. If the odds change, you can change the odds in your favor. For those that want to learn the odds behind the matched betting formula, Oddsmonkey teaches you how they come up with the calculation so you can do it yourself. There are also different calculators for each type of matched betting method, such as each-way calculator, accumulator calculator, and dutching calculator.

Exchange Integration
Oddsmonkey is the first matched betting software to exclusively integrate with Betfair. Betfair is an online betting exchange casino for sports games and horse races. With this integration, it helps players to place bets faster and prevent potential mistakes while placing your lay bets at the exchange. This tool will automatically place lay bets for you, so you don't have to.
User experience
There is no doubt that Oddsmonkey offers the best customer service that a company can offer. Users are extremely happy with their support and the willingness of their staff to help people by email and phone.
Cons
They have remarkable matched betting software which gives them an edge over their competition. They have a highly competitive monthly fee, which is quite a bit cheaper than others in the industry. However, no one is perfect; we found a few cons:
Sometimes they have fewer daily offers as compared to their competition.
Their forum is not as active and engaging as it could be.
They only have a few video tutorials to help through the betting process.
How much does it cost?
Users can choose between the free trial or the premium offer.
The free version gives users access to three profit-making signup offer guides to get them started. Additionally, they provide basic support, a free version of the Oddmatcher tool, and the ability to earn up to £45.
As for the premium, you get way more than what you pay for. For just £19.99 per month or £180 annually, you get over 60 reload bonuses every week and over 50 sign up offers that are worth at least £1,000 in profit. Not to mention, players get access to Oddsmonkey's 37 tools designed to help players of all experience levels. Premium users receive customizable alerts for more opportunities to earn profits. They also have access to a community of other matched bettors along with seven days a week from other matched betting experts. If that's not enough, you can ask for your money back within 30 days. Oddsmonkey stands by their 30-day money-back guarantee for those who are not completely satisfied with their experience.
Frequently Asked Questions
How Money Can You Make With Matched Betting?
The great news about matched betting is that you don't have to work your typical 40 hours per week to earn a good full-time living. It takes merely only about two to three hours per day. If you're organized and able to take the right action on offers, you should be able to make £1,000 to £2,000 per month with the potential to earn more. Mornings are the best time to find new offers and get ahead start on planning, which offers to go for first. With Oddsmaker, you can easily search, find, or even hide offers. They offer a variety of bookmakers and exchanges to place your matched bet. On weekday afternoons, you should focus on tennis and horse racing, since they have the most offers available. During the evenings, you may look out for snooker and dart offers. As for the weekends, you can make about half your earnings each week from them. This is due to the payout of football promotions. You'll likely receive email reload offers, welcome bets, and loyalty bonuses. Decide which football promotions you'd like to bet on, and which horse races are ideal for getting refunds.
What are the challenges of Matched Betting?
However, there are a few challenges of matched betting, especially if you're new. It's crucial to keep track of your wagering requirements, signup bonuses, bookmakers, and betting exchanges. With Oddsmonkey, they keep all of your bets organized in one place to prevent mistakes. Placing the wrong bets can result in a loss of profit. Also, you may miss out on opportunities if you overload yourself with signup offers and miss the deadline. Most offers have a bonus expiration date where you must wager the requirements by.
Another big challenge of matched betting is when bookmakers apply restrictions on your account, otherwise known as gubbing. Simply put, a winning customer isn't profitable for bookmakers. This entire business is built on gamblers who place bad bets where bookies take advantage of. Gubbing may be frustrating, but Oddsmonkey does offer tutorials and expert guidance on how to avoid account restrictions from bookies. Not to worry, there are plenty of bookmakers to work with, so you'll still have plenty of opportunities to profit.
Which is better OddsMonkey or Profit Accumulator?
Ultimately, this comes down to personal preference. Both services offer extensive tools that will help with your matched betting journey. We've written a full comparison to help you make your choice.
Is OddsMonkey Free?
Oddsmonkey has free tools that you can use without subscribing. For example, the matched betting calculator. However, if you're looking to get the most of the site, it's highly recommended to sign up for the free trial in which you can make up to £45.
Oddsmonkey Review – Is It Worth it? Final Verdict
Oddsmonkey is worth the subscription for all experience levels of matched bettors. Based on their comprehensive features and tools, they can help matched bettors place bets with higher odds and find more opportunities with more offers, refunds, and reload bonuses.
The subscription cost is by far one of the cheaper options in the market and offers more value for its price. With the free trial alone, you can easily get started with matched betting and earn a decent income with their just free bets.
Even if you're a complete beginner, Oddsmonkey has a full library worth of video tutorials and guides. If that's not enough, you can always post your question to the forum or contact customer support for further help. With the advanced features they offer, it will save you more time and increase profits over time. We hope you enjoyed this comprehensive Oddsmonkey review.
Oddsmonkey Review 2022: Does Matched Betting Still Work?
The latest Oddsmonkey Review updated for 2022. Is Oddsmonkey still the best matched betting provider? We expose the truth behind Oddsmonkey.
Product Brand: Oddsmonkey
Product Currency: GBP
Product Price: 19.99
Product In-Stock: https://schema.org/InStock
Articles you might be interested in: