Selling products on Amazon has the potential to provide a fantastic income but only if you're selling the right stuff.
Sell something that countless others are selling and your products will struggle to stand out from the crowd, while specializing in overly niche products means there may not be enough buyers to make a profit, so finding the right products is pivotal for successfully selling on Amazon.
With half of all sales on Amazon coming from third-party sellers, it's an incredibly competitive market, making it even more challenging to find products with selling potential.
Almost all products are being sold by multiple sellers at any one time, making it incredibly difficult to find niche products that are in high demand but not being sold by countless other sellers. But that doesn't mean it's impossible to find niche items that will sell big on Amazon.
In many cases, it helps to have tools that can assist you with finding and researching products before selling something. Jungle Scout is one such tool, with the web application offering a range of functions to help users find and research products with high selling potential.
What is Jungle Scout?
Jungle Scout is a product research tool available as a web-based application and a Google Chrome extension. Using various functions, the tool lets you find and research countless products on Amazon's database to help decide whether something is worth selling.
Sellers can use all the data provided by Jungle Scout to see what products are most likely to be profitable, making it a fantastic tool for anyone running an Amazon FBA business. By giving solid data on all kinds of sales metrics, Jungle Scout removes all the guesswork from product research for Amazon sellers.
Why Use Jungle Scout?
Selling stuff on Amazon may seem easy but it's anything but that. Just because you have an idea for something to sell doesn't mean it's going to be profitable, with lots of research required to find the right products that will sell enough to bring in a profit.
Jungle Scout offers many functions that make product research less difficult and more accurate. It can help find good products that are likely to sell well and tell you when something isn't worth pursuing.
You can use it to search for things to sell on Amazon, giving information on things like number sales, total reviews, and customer ratings, while also letting you track the performance of any product over, listings of certain products, and all kinds of sales data.
Whether you already have a strong idea of certain niche products to sell or are a new Amazon seller and want some help getting started, Jungle Scout offers a range tools that can make life as a seller much easier, and most importantly, profitable.
Web App or Chrome Extension?
One of the first things you will see from Jungle Scout is there are two main tools available – a dedicated web application and an extension for Google Chrome.
Each one is available separately as they work slightly differently in terms of functionality.
The website is available through monthly subscription service and its core function is to help find products to sell on Amazon, while the extension offers data on products and keywords to help evaluate items you already plan on selling.
This means the extension can't be used to find new niche items to sell like with the web app, instead of giving info on anything you search while using Amazon. A Lite and Pro version is available for the extension, with Pro coming with a few extras, namely a fee estimator and profit calculator.
Either one may be ideal for your needs, although it's worth mentioning that using both can save you a significant amount of time and effort finding and researching products.
For instance, you can use the web app to search and find new niche items to sell on Amazon, then use the extension for more data on these products to evaluate whether they are worth selling.
Jungle Scout Features
So, what features does Jungle Scout offer that make it worth your money? Quite a few to be honest, and these can be a huge asset for anyone trying to sell products on Amazon! Let's start with all the features available on the web app:
Product Database
The product database is perhaps the core feature of Jungle Scout, giving access to the hundreds of thousands of products available to sell on Amazon. This is where your journey to find the next big niche product begins!
This is a massive database with countless products from almost every Amazon marketplace, allowing you to search for products based on your country and region.
One of the big selling points of this feature is the various search filters. You can search within very broad or specific filters to find all kinds of niche products in any category, narrowing searches based on things like price, star ratings, total sales, revenue, product weight, and total sellers.
You can set maximum and minimum amounts for each filter, choose keywords to include or exclude in searches, and search in specific product categories. This can save you hours of work searching for new products to sell in your store!
This feature is simple enough to use, and after a few shots setting different filters and search parameters you'll find a massive range of products that meet your selling requirements.
You can even save filters and load them for future use, which is great when researching products over longer periods to catch any trends.
Niche Hunter
Another one of the core features on Jungle Scout, Niche Hunter is a search tool for finding new niche products. It's possibly the most advanced feature but still easy enough to learn, with it working similar to the product database in that you set out various parameters to find products to sell.
You can search by marketplace and product categories, and there are many of the same filters found on the product database like average price and units sold.
There are also additional filters for finding niche products, such as competition, opportunity score, and listing quality score, with scores being based on competitor listings.
Once you search for something, you'll be given detailed information on your search parameters including:
Average Price
Gives info on the average price of the top ten products based on your keyword search on Amazon. Helpful for understanding whether you could be over or under-pricing products.
Average Unit Sold
Like average price, you get a list of the average units sold over 30 days for the top ten products in a specific keyword. Basically, the higher the number the better.
Competition
Provides info on how competitive products, using the total number of reviews from the top ten products to gauge the competition of a product. Fewer reviews means less competition, so just a couple of reviews can get you ranking well, which is difficult when there are similar products with hundreds or thousands of reviews.
Listing Quality Score
This looks at top ten listings and measures quality score by checking things like the number of images, keywords in the product title, length, and quality of descriptions, etc. If you find something with a low numbered LQS (around 1-5), then there is less competition and potential for high ranking by creating quality listings of your own.
Opportunity Score
Summarizes all the above metrics to provide an overall opportunity score. This is basically the potential a product you want to sell has. Anything close to ten is a potentially winning product worth pursuing, while any products closer to one are worth avoiding as competition is strong and sellers are already succeeding in this niche.
Keyword Scout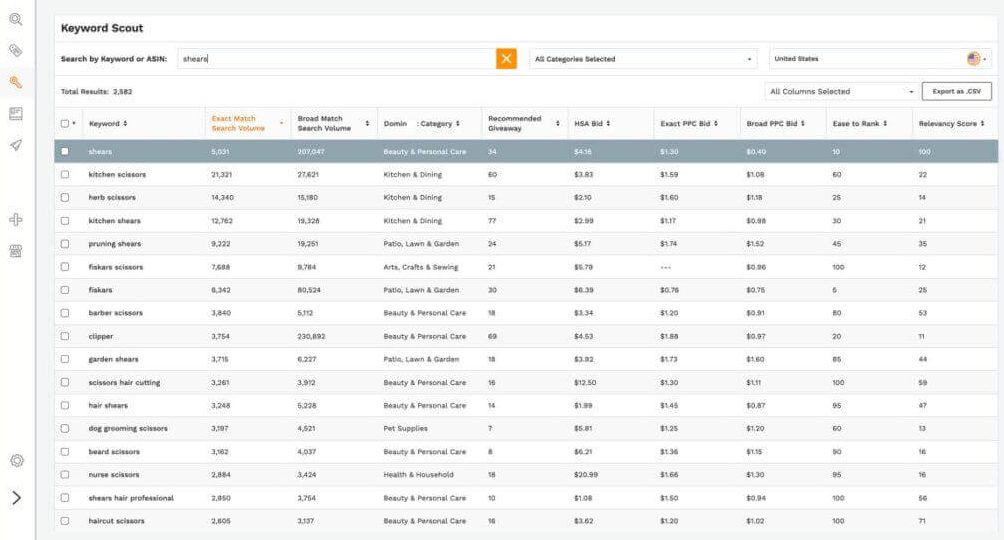 The keyword scout is a newer feature added with Jungle Scout's recent update and it is certainly a welcome addition.
This is a great tool for keyword research, giving a variety of related keywords after you search for seed keywords, which can be especially useful for finding new long-tail keywords related to your product.
A lot of the fields are straight-forward and easy to understand, with things like exact match search volume indicating how many searches the keyword has received over 30 days. Broad match search volume shows how many similar terms are searched, accounting for things like misspellings, plurals, and other spelling variations.
The Giveaway field highlights the volume of discounted or free products that might be considered to help attract customers that will write reviews. This is necessary to help improve ranking, as products with no reviews will smuggle to compete with similar products that do have reviews, so if you meet the recommendation you can end up with a higher ranking.
Ease to Rank is like the opportunity score in the Niche Hunter feature, using an algorithm to determine how easy your keyword will be to rank. The closer it is to 100, the less chance it is of getting a high ranking due to stiff competition.
This is very useful for establishing what keywords are worth pursuing and whether different words and phrases should be tried to help rank better. The lower the Ease to Rank score the more likely the phrase reaches the front page of Amazon.
Relevancy Score indicates how relevant the keyword is to products, while there are also recommendations and related keywords that are commonly searched on Amazon, making it much easier to find relevant and niche keywords to improve ranking.
The Keyword Scout function is certainly one of the best Amazon keyword tools on any platform!
Product Tracker
Jungle Scout's Product Tracker feature is another fantastic tool for product research, letting you monitor the performance of various products over specific periods, ranging seven to sixty days.
The reason this is so useful is that you can gauge how products perform over seasonal periods, which usually results in inflated numbers for virtually every product. For instance, the Holiday season sees higher than average sales, while certain products (e.g. garden furniture) will typically perform much better in summer than in winter, and vice versa.
By allowing users to check product performances over long and short periods, you get a more realistic view of data and can identify seasonal highs and lows.
You can also create various groups and track these together, which is a great way to compare similar products to see what is worth pursuing and what should be avoided, while you can still get detailed information on each individual product within the group.
Jungle Scout Chrome Extension
Now that we've covered the core features in the web application, it's time to take check out the Jungle Scout Chrome Extension. Available separately from the web application, the chrome extension is less featured-packed but still has some useful functions.
You can buy this individually or include it as part of the monthly subscription alongside the main web app. This is a good option as you get the best of both, saving you countless hours researching products, keywords, and other important data.
The extension is simple to use too. Simply search for a keyword on Amazon, click the button and get all kinds of useful information on the best-selling products including average monthly sales, average sales range, average price, average reviews, and an opportunity score like with the Niche Hunter function on the web app.
Furthermore, the extension can be integrated with other tools like Google Trends, allowing you to see what products are seasonal, while you can also add items that have appeared on your search onto the product tracker function on the web app, providing you have both.
The extension is a great tool that lets you quickly analyze products you are thinking of pursuing. All the info is clear and easy to understand and you can complete product research and analysis in no time at all.
Pricing Options
Jungle Scout's recent updates brought more features and an overhauled pricing model. Unfortunately, there is no free trial but you do get a 14-day money-back guarantee, so if you aren't satisfied you can request a refund.
Chrome Extension Pricing
The pricing for the stand-alone chrome extension is $39/per month but Jungle Scout offer a very generous 50% saving if you pay for the annual pricing which works out at $19/per month. This is a great choice for new sellers and includes:
Chrome Extension
Opportunity Score
Product database (10 searches)
Product Tracker (3 products)
Supplier Database (10 searches)
Keyword Scout (10 searches)
This also includes the Jungle Scout academy training so it should be enough to get you started!
Web Application Pricing
The pricing for the web application differs from the extension. You are charged a monthly fee based on the confirmed monthly orders, with the basic pricing offering up to 500 orders. The pricing tiers then increase depending on the volume of orders per month.
The basic option includes the following with unlimited search results:
Product Database
Product Tracker
Niche Hunter
Supplier Database
Keyword Scout
Email Campaigns
Product Promotions
Academy
List Builder
Supplier Tracker
This package has a lot more to offer than the standalone extension and is reflected in the slightly increased price of $49/month with again a 50% saving when paid annually.
Jungle Scout & Extension Pricing
The most popular option and the best value is to go for the combined package. This starts at $69/per month again with the 50% saving when paid annually. With the package, you get the best of both worlds and don't lose any functionality. This pricing does still increase depending on the order volume per month but we think it's still well worth it.
Final Thoughts
So, is Jungle Scout worth your money? It depends on what your goals are as an Amazon seller, although for the most part, you will find that the tool makes finding and researching products so much easier.
There core tools all offer useful functions for finding new products to sell and giving you all the info you need to decide what is worth selling and what isn't Given the competitive market on Amazon, sellers need all the help they can get to stand out from the crowd, and Jungle Scout can help you do this.
It removes most of the legwork associated with product research and analysis, giving quick access to invaluable data on virtually every product on Amazon. Anyone currently managing an FBA business will find the tool incredibly useful as it will save countless hours of research.
Both the web app and Chrome extension are user-friendly, so newel sellers won't be intimidated by all the info, while there are various training resources for anyone unsure of what they are doing. Add in the great customer support and flexible pricing options and you have one of the best resources of Amazon product research.
Jungle Scout Review | The Best FBA Tool On The Market
The most comprehensive Jungle Scout review. One of the best product research tools on the market for Amazon. We include everything you need to know.
Product In-Stock: https://schema.org/OutOfStock
Articles you might also like: