Universe Theme created by Outlane.co is an all-inclusive multipurpose shopify theme that allows e-commerce sellers to build a fully responsive, beautiful and functional store within minutes. This theme offers a mobile optimized solution and a wide array of features to provide sellers with everything they need to operate a successful e-commerce brand. Since over 50% of all online shopping is done through mobile devices, it's imperative to ensure all of the pages fit on a phone screen. If your visitors have to zoom in to click the add to cart button or have trouble navigating to the menu tab because the interface was built for a computer screen, they will likely exit and never return to your store again. In this Universe shopify theme review, we'll dissect their best features and whether or not you should purchase this theme for your store.
Home Page
A home page is a great way for showcasing what your store is all about. Universe theme has a wide array of customization tools such as a sticky heading to always display the main navigation tab. You can also add a product carousel to promote your best products or on sale items on your homepage. For those of you who like to add a more dynamic page, you can embed a YouTube video to demonstrate your products or insert google maps to showcase where your store is. If you want to stand out, you can even add background videos and animated icons to spice up your store.
Product Page Features
When it comes to dropshipping, product page conversions are a big deal. Customers typically see only one product page and then quickly decide whether they want to purchase or not. We love how the Universe theme has a product zoom feature so that customers can get a better look at the product. This theme also has a built-in related products feature, so you can seamlessly add related products on your product pages. You can add product reviews on your page to share your customers' experience with your products and provide extra social proof to help entice customers. Next, we love how there's a slide-out cart feature giving visitors the ability to add and edit their cart without leaving the page. Having a sticky cart serves as a great reminder to visitors to complete their purchase. There are color and image swatches to help visitors view product variants with ease. Anything you can think of, Universe Theme likely has it. They even have currency switches so that international visitors can view the price in their respective currencies. Product reviews, related products, and currency converter apps on Shopify easily cost $10-$30 every month. However, with this theme, you get them all included along with the Universe theme.
Browsing Experience
Face it; if your store is clunky and confusing, most visitors won't buy. A customer who struggles to even navigate through your store will lose trust in you. Most visitors are coming to your store for the first time, and they don't want any difficulty with finding information. For example, customers want to easily track their order and find out what the shipping times are. Universe theme has a powerful mega menu option that allows visitors to simply hover over a section to see all the subcategories and what's inside of each page. This drastically enhances the browsing experience because visitors can preview the page before opening it.
Easy to Set-Up
Where we think this theme separates from other premium themes in the market is how easy it is to use. Nobody wants to spend hours figuring out how to operate the features. The Universe Theme comes with an inner page builder where you can see live updates on the exact changes you're making to your store. There are built-in settings to quickly change colors, fonts, layouts, headings, and more. There is also a documentation and tutorial section to walk you through how to use each feature and troubleshoot any problems that may arise. If you do have trouble, you have direct access to support and developers. With free themes, if you want to contact support, you usually have to go through Shopify and then wait a few days since Shopify has to contact the developers themselves.
Pricing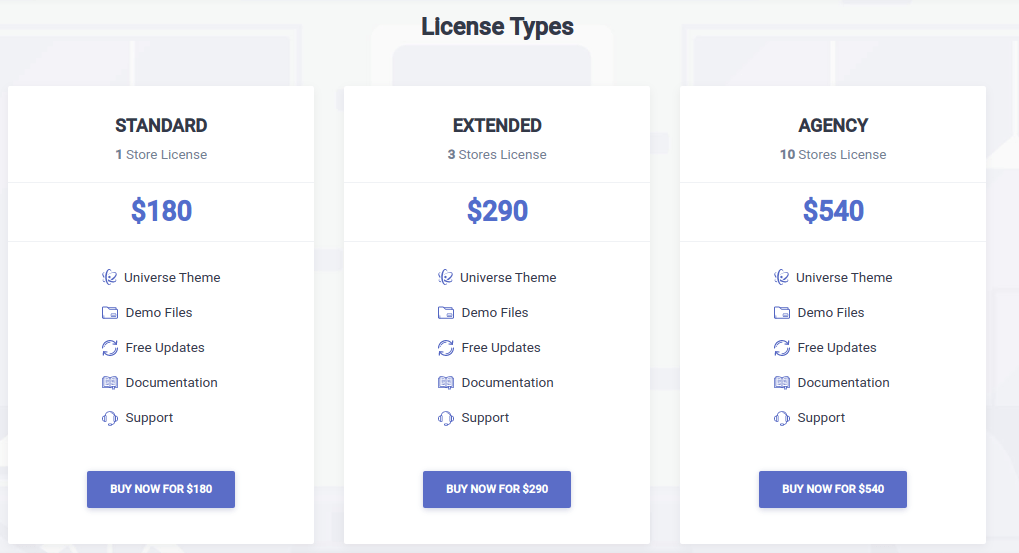 For Pricing, the Universe theme offers three different licensing packages, which are the Standard, Extended, and Agency Package. All three packages offer the Universe Theme, demo files, free updates, documentation, and support. The difference is the major discount you would receive for buying additional store licenses.
The standard costs $180 for just one store license, the extended package costs $290 for three store licenses ($96.67 per store license), and the agency costs $540 for ten store licenses ($54 per store license). With the extended package, you are getting 47% off per store license and the agency option, you are getting 70% off per store license. The package you choose depends entirely on your budget and goals. For example, a seasoned dropshipper looking to start stores in multiple niches might want to choose the Agency package, so save on time and money. If you're planning to build a long term brand, you may want to just start with one license.
Universe Theme Review: Final Verdict: Should you buy it?
Overall, we think that the Universe Theme is an excellent option for any dropshipper or e-commerce store owner. Although free themes may work, frequently, they are very cookie cutter and look exactly like other dropshippers. Having a sleek and responsive theme will help you increase conversions. Higher conversions can be the difference between a profitable store or one that is suffering losses. With all of the built-in features included, you will end up saving more money on Shopify apps, since you won't need to purchase them. Not to mention, having too many Shopify apps and pop-ups will only slow the loading time. We hope that this Universe theme review was able to help you decide on your next premium theme purchase.
Universe Theme Review | A Winning Dropshipping Shopify Theme
Universe Theme review 2020 everything you need to know. Does it work for dropshipping? Is it worth the money? We've covered everything in our review.
Product In-Stock: https://schema.org/OutOfStock